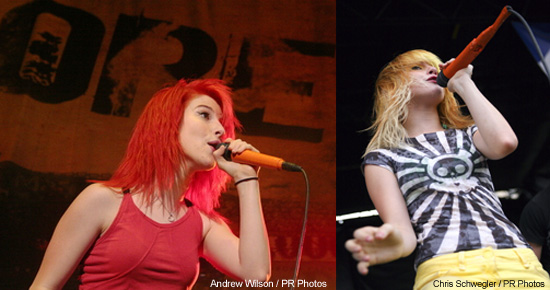 Anyone that has heard a song from the alternative rock band Paramore knows that Hayley Williams can belt out vocal like nobody else. Her style of singing is compared to that of Amy Lee from Evanescence and at only 20 years old she and her band mates have already released their second album. She is known for her fun and punky way of dressing and her care free attitude goes great with her likeable personality. Perhaps that is why there are more and more young women these days that want to dress like Williams.
Dressing like Williams is not hard at all to achieve as she has not let fame get to her head like so many famous people do and continues to dress much the same as she did before she gained any notoriety. Here are some tips to help you dress more like Hayley Williams:
•    Jeans: In a classic punk style of dressing, Williams is always sporting a pair of jeans. When you choose your jeans you will need to go from fitting, but don't go ultra tight. Choose darker colors like black and gray and stay away from the traditional blue as Williams never wears that color. If you go with a pair of jeans that has rips and tears in them, don't go overboard. Williams rarely, if ever, has any rips or tears in her jeans.
•    Shirts: This is really easy and really wide open as well. Williams usually wears darker colored tank tops and t-shirts such as black, blues, greens, and purples, but catching her in the occasional white or yellow t-shirt is not out of the question. She usually likes to wear t-shirts with some sort of saying on them or will at times sport a t-shirt with an older band's name on it, such as AC/DC.  Have fun with this step and get unique in what you choose no matter if you go with a tank top or a t-shirt.
•    Shoes: No surprise here that Williams goes with black sneakers. She likes the classic look of Converse high-tops so to accurately copy this look you too should go for a pair of them.
•    Accessories: Williams doesn't really accessorize for the most part. If you choose to, then go very low key. An occasional bracelet that is not flashy will do just fine in this department.
•    Hair and make-up: Williams wears very little make-up so when you go to apply yours you have to be on the ultra conservative side. As far as her hair goes though, that is a different story. Williams always wears her hair down and she has sweeping bangs which isn't really tough to mimic so long as your hair is long too. But to capture the true essence of Williams you have to go all out and color your hair. Williams is known for always having a bright and loud hair color such as orange or red and at times even has blonde highlighted throughout as well. Go crazy here, but remember to stick with bright and loud colors.
Now go out and take years of voice lessons like Williams did and your quest to be like her will be complete.