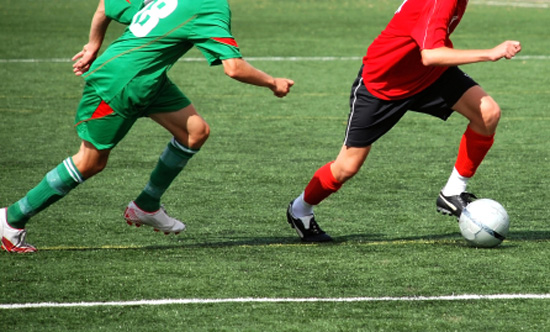 Dressing like a soccer player is an easy way to pull together a costume with minimal effort. However, the result will look like hours were spent creating the perfect outfit. Sports costumes never follow the trends, so this is a timeless costume that is acceptable to wear for any year. It is versatile for both men and women. Men are able to play up the sporty side, while women can opt for the sexy version by baring a bit more skin or buying clothes that fit a bit more snugly. The standard pieces required are listed below, but note that variations of them will still be acceptable to pull off this costume correctly.
First, start with soccer shorts. These will need to match some color combination in your top, so the easiest choices would be red, black, or blue. If you're not looking to spend a lot of money, you can find everything you need at Wal-Mart. On the other hand, any sports supply store can provide what you need. When you look for shorts, try to find a pair that has white stripes on the side. This will enhance the authentic appearance. If the weather is chilly outside, considering wearing some black tights under the shorts. This allows you to stay warm but won't cover up part of the costume.
Next is the soccer shirt, which needs to match the shorts in some way. Ideally, pick the colors of your favorite soccer team. If you don't follow soccer, choose color combinations that match your shorts. Also, try to find a shirt with a number on the back. If you can't find one, simply buy an iron-on felt number at an arts and crafts store and iron it on yourself. This is very easy to do and doesn't cost very much. If you are a woman going for the sexy look, try to find a top that is either cropped to show your stomach or very fitted.
You will also need soccer socks, shin splints and cleats. Be sure the socks you find are very long. They need to come up almost to your knees and have two horizontal stripes at the very top to really complete the look. Soccer players wear shin splints under their socks to protect their shins from getting damaged during the game. When paired with soccer cleats, you look like a real player. Cleats are usually black with black laces. Any sporting goods store will carry all of these items.
As far as props go, don't forget your soccer ball. This is a key element to your costume. Also found any sporting goods location, this is also convenient for any pick up games that may ensue that night.