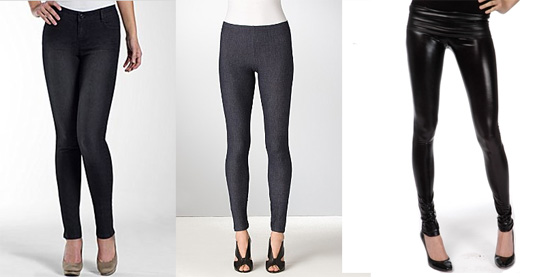 Leggings are probably the most comfortable thing you can wear and one of the more versatile. Because they contour to your body, after a while you feel like you are wearing nothing at all. Leggings can also help to keep your legs warm when the temperature outside starts to dip and they are the perfect solution for those who have nice legs but a few blemished that they would rather not show off. The best thing about leggings is the almost unlimited outfits that can be put together using these versatile leg coverings.
Leggings are a great way to dress for a casual setting and even a semi-formal setting. Here is how you can jazz up your leggings and look great no matter what the occasion:
•    Baby doll dresses: A baby doll dress is a great pairing with leggings. Using black leggings will allow you to use any color baby doll dress that you like. For a casual setting a nice vibrant color such as red fits the bill and when paired with a matching pair of closed-toe heels you will look great and be able to get ready in just a few short minutes.
•    Miniskirts: Miniskirts look awesome with leggings and by again using black leggings; you can use any color or material in regards to the miniskirt. A cool and casual look is a denim miniskirt that is paired with a bright colored blouse. You can dress up the fashion by using a designer shawl and go for a sensible pair of flats when choosing your footwear.
•    Slinky dress: Slinky dresses are sleeveless and like a baby doll slip right over your body. Utilizing black leggings you can go with a vibrant green colored slinky skirt and use a bright colored waist belt, such as yellow, to tie in the outfit. You can wear the waist belt up higher than normal in order to set a nice contrast to the dress. For shoes go with a fun style heel that is the same bright color as the belt. This look is nice enough for a casual day as well as a fun night out with the girls.
•    Longer blouses: Black leggings also look great with longer blouses. When selecting your blouses go with ones that are frilly at the top and be sure that they are long enough to cover the buttock area. Use a wide belt to tie in the outfit and pair it with a pair of matching flats and you have the ultimate in comfortable casual.
•    Fancy dresses: You can also wear your black leggings with a number of fancier style dresses that are on the shorter side. Wear dresses that have bows in the middle for a great contrasting look. By putting it all together with a nice pair of pumps and an eloquent hand bag, you will have an outfit that is nice enough to be worn just about anywhere you go.
Leggings make for a great alternative to pants and jeans and the best part is they will go with many of the garments that are currently hanging in your closet.