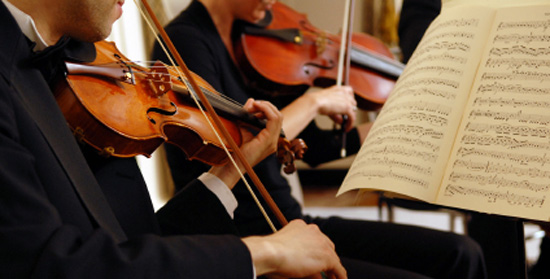 Going to the symphony used to be an occasion to dress in a formal manner. It used to be a requirement to wear extremely formal attire for all symphony performances. However, this has changed a lot over the past few decades. Nowadays, there are many different types of outfits that are perfectly acceptable for the symphony.
Pants

If you are going to be wearing a suit, simply wear a pair of suit pants and a matching jacket. Many men do go to the symphony in a suit, so you will not be out of place. If you don't have a suit or don't want to wear one, there are many other options. You can wear a pair of khakis, which is very common at the symphony. Khakis can be paired with just about anything and will look stylish and appropriate. You can also wear a pair of dark pants in just about any style.
If you want to wear jeans, this is not that uncommon either. The only guideline with jeans is to make sure they are in very good condition. Jeans that have holes or stains on them are not appropriate for the symphony. If you do wear jeans, they can be paired with a nice shirt for look that is acceptable for symphony wear.
Shirts
If you are wearing jeans, make sure to pair them with the nicest shirt that you can. That doesn't mean that the shirt must be silk, only that it is in a solid color or that it has a very small pattern and that the shirt is in good condition. A t-shirt can be acceptable in some situations, but generally not with jeans. If you are wearing a nice pair of slacks or a skirt, a t-shirt in good condition and without a faded color will look fine. If you have a t-shirt that you want to wear with jeans, you can dress it up a little bit by wearing a blazer or a dressy jacket over it.
Dresses and Skirts
If you want to get very dressed up, wearing a dress is always acceptable at the symphony. For most sympathy performances, unless they are special performances, most women do not wear extremely ornate dresses or sparkly cocktail dresses. A nice dress that complements your figure and has shoes to match is always an appropriate thing to wear. Wearing a skirt and blouse that have similar characteristics is also perfect for the symphony.
A dress or skirt should not be too short for the symphony, however. Wearing a micro-miniskirt is not appropriate, though a skirt that goes to the knees is fine. Remember that you will be sitting during most of your time at the symphony. A very short skirt will ride up and they make you uncomfortable during the performance.
If you have a casual skirt, you can dress this up a little bit with a matching jacket or with a pair of high heels. If the weather is cold, consider tights under your skirt or dress as well.