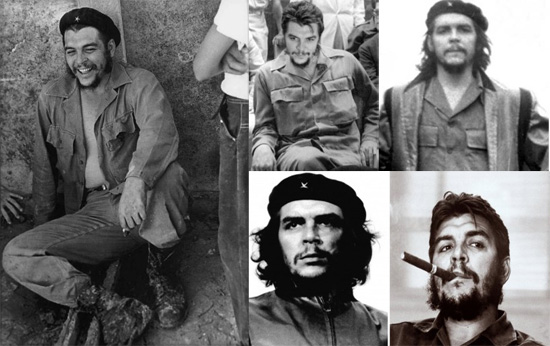 Ernesto "Che" Guevara was born in Argentina in 1928. Though educated as a doctor who received his medical degree in 1951, Che was best known as a Marxist revolutionary and major figure in the Cuban Revolution. He was an integral part of Fidel Castro's rebel army in his plot to overthrow the Cuban government in the 1950's. Though reviled by many, Che Guevara's image and style came to symbolize counterculture and rebellion.
Che Guevara's image may be controversial, but dressing like him can be a simple matter of pulling together a few items of clothing and accessories. Dressing like Che Guevara can be easy to pull off successfully.
To dress like Che Guevara first you must have the single most recognizable item, a hat. Guevara wore a beret with a star on the front. Guevara in his Viva la Revolution beret is one of his most recognizable images. Though photographed without the hat quite often, it's the hat that most readily evokes the image of Che Guevara.
The next part of the Che Guevara ensemble is army fatigues. In the days of the Cuban Revolution he was always seen in some form of fatigues or army uniform. Generally olive, these items can be found easily and cheaply at an army surplus store. Be sure to get pants as well as a shirt that buttons with a notched collar. While you're there take a look for some black military boots to go with the fatigues. Lace up boots that your pants can be tucked into are an ideal choice.
The next thing you need in order to dress like Che Guevara is a beard and longish hair. Guevara wore an unkempt beard. If you don't have a beard or don't want to grow one, you can get a costume beard at a costume shop or on the internet. You could also use an eyeliner pencil to draw in the moustache and beard. To go along with the beard he also wore his hair longish and messy. It came down nearly to his chin and looked tousled and uncombed. If your hair doesn't fit this description you can find a wig at a costume shop. An alternative would be to wear long hair in a ponytail under the beret.
The final element to complete the Che Guevara look is a cigar. Though Guevara famously smoked large Cuban cigars, you could use any variety of cigar that can easily be found at a cigar or smoke shop or perhaps a liquor store. In place of a real cigar a costume or prop cigar could be used.
Che Guevara's image evokes a sense of revolution and counterculture.  He was a controversial image, both loved and hated by many. To dress like him, though possibly a bit risky, is really quite easy and inexpensive and can be done with very few pieces and just a little thought and preparation.