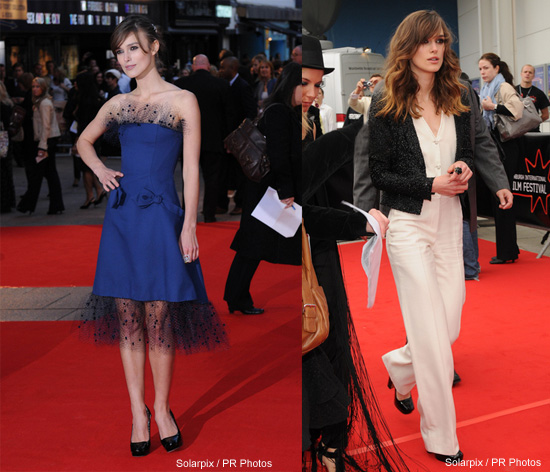 Keira Knightley wears a lot of interesting styles that always set her apart from the other actresses around her. Her style is an ethereal look that combines a number of different looks into one outfit seamlessly. No matter what she is wearing, her look is always dramatic and full of color and interesting shapes.
Shirts
Keira prefers low cut shirts- sometimes extremely low cut. These shirts may be cut as low as the waist. While this can be a hard look to achieve, there are some women who can wear a shirt that is cut that low. Wear a long necklace with the shirt to complete Keira Knightley's look.
Because of her petite figure, she goes without a bra and wears a lot of strapless outfits. This look isn't possible for everyone, but it can be had for some by skipping the bra and wearing a strapless Boho top that fits loosely. She likes wearing peasant tops and other loose, flowing shirts that have plenty of deep color. Some women can get the look by wearing a shirt that has a bra built into it. She doesn't wear a lot of bright colors, instead wearing deep burgundy, gray and dark blue.
Dresses
Because of her many formal events, Keira  has a full wardrobe of exquisite dresses. When looking for a Keira dress, think feminine. Her dresses are always extremely feminine in style and detail. Choose dresses that have soft, flowing fabrics and that have plenty of ruffles, ribbons and small, intricate details. Her dresses are usually the same deep colors as her shirts. She loves charcoal and deep purples when she's dressing up.
A dress that is strapless and has an interesting neckline is a classic Keira Knightley look. Find a dress that has plenty of ruffles or folds at the top to bring the eye upward. Then rest of the dress should be long and should flow dramatically. Dresses with lots of pleats and folds will give the dress the types of movement that it needs. Her dresses often reach the floor, and sometimes they are even longer, leaving fabric trailing behind her.
When she wears a short dress, she sometimes wears black leggings under them for a chic, funky look. Keep the leggings short to show off the legs if you're sporting this look.
Jeans

Like many women in Hollywood, Keira prefers the skinny jean look. To get her look, wear skinny jeans in a dark blue wash and wear them with flat boots that are slouchy around the ankles. This 80s throwback is now a modern look that works well with tapered jeans.
With the jeans, pair a strapless top and a casual necklace. Mix up the jeans and boots look with a pair of metallic flats. Keira wears flats in many different shiny, metallic colors with her jeans. This is a comfortable, casual look for everyday occasions that don't require formal attire. Pair this look with a small brown leather bag to get Keira's  casual style.