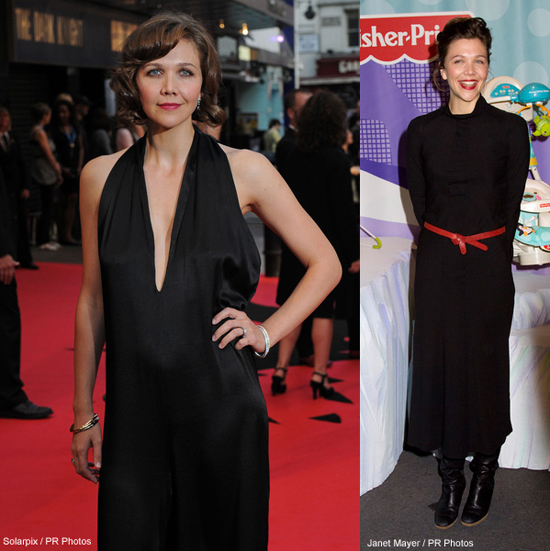 Maggie Gyllenhaal has been doing movies since 1992 and has parlayed her talent all the way to becoming the girlfriend of Batman in the latest movie of the Batman saga, The Dark Knight. Gyllenhaal has described her own style of fashion as quirky and eclectic, but her sense of style is one that can easily be transcended for just about any woman who wants to give it a shot.
Here are some surefire tips to get you on the path of looking like Maggie Gyllenhaal:
•    Black dresses: Gyllenhaal seems to be a big fan of black so when you think about buying dresses to emulate her style think black. The dresses themselves can range from short sun dress style to longer and fuller dresses. Gyllenhaal has been seen in black dresses that have long sleeves, but see seems to like to show what she's got and often wears dresses that expose her shoulders and just a bit of her cleavage. When you choose your black dresses, make sure you go with form fitting, but stay away from ultra tight.
•    Formal: When appearing at red carpet event, Gyllenhaal is usually seen in a darker colored strapless gown. If there are any straps it may be only one that sweeps over one shoulder. Choose gowns that show lots of skin in the back as Gyllenhaal often likes to give just a little tease out to all her fans.
•    Shoes: Gyllenhaal has been seen in several different pairs of shoes and is not really particular to one or the other. With her dresses she likes to wear black heels that are not too high but do have some lift to them. You can use those or also get away with a tasteful pair of sandals. Go high heels when you go formal. You of course want to go with black here no matter what style shoe you choose to go with.

•    Accessories: Gyllenhaal is not really that big on accessories unless she is at a red carpet event. When she goes to a red carpet event she goes all out. If you are being casual then simple earrings and necklaces do the trick, but if you are planning to go more formal, then you want to go with big hanging earrings and gaudy necklaces as well.
•    Hair and make-up: Gyllenhaal usually has an in-between hair cut, meaning it is not too long and not too short. Style your hair with a part to the side and use some type of hair product to give it some body. You can also add loose curls as she often does. When you apply your make-up be sure that you bring out your cheekbones. Gyllenhaal has great cheekbones and she uses make-up to highlight this fact. She also typically goes on the heavy side of lipstick to bring out her lips so you should choose a color, like dark red to bring out yours.
While you may never date Batman, you can achieve the look of Maggie Gyllenhaal with very little ease and preparation.