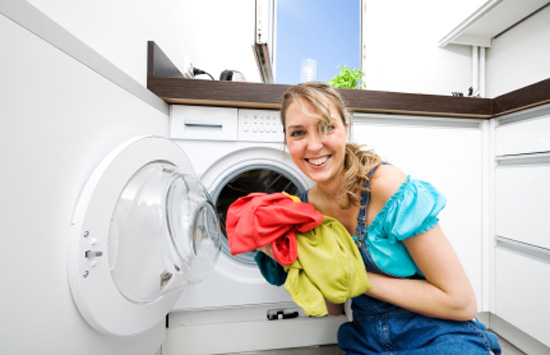 A washing machine is one of those appliances that is essential to keeping a household running smoothly. If yours breaks down, you quickly gain an understanding of just how much work this underappreciated piece of machinery does. That's why it's important to take care of your washer by using it correctly, and by performing some occasional maintenance to keep it in top operating condition. Taking care of your washer now will certainly save you a lot of hassles, not to mention expensive repair or replacement costs down the road.
One of the most important considerations when using your washing machine is capacity. Capacity refers to the amount of laundry (in pounds) that a washing machine can properly wash. An average capacity washing machine can wash 12 to 16 pounds of laundry per load, while a larger capacity family-size model can wash as many as 20 pounds per load. If an excess amount of laundry is added, the washer will become overloaded, leading to a number of problems. Here are some indicators that you may be overloading your washing machine.
1.    Your clothes do not come out clean. If you still find noticeable stains, grime or soap residue after running a load, then there is a problem with the washing method. If this is an isolated event, double-check to be sure that you added detergent prior to starting the load. If detergent was added but items in the load are still dirty or soapy, overstuffing may be the culprit.
2.    Your washing machine overflows. Overstuffing your washing machine can cause the water to overflow, ruining items on the floor of your laundry room. If not caught in time, flooring and other major components of your home's structure could sustain water damage.
3.    Your washing machine makes a loud, clunky noise. When you load your washing machine beyond its capacity, there is a greater chance of throwing the spinning drum out of alignment. This happens when one side of the load is heavier than the other, causing the drum to spin unevenly and make a very noticeable clunking noise. If this problem persists over a long period of time, it can lead to eventual breakdown of the machine.
To avoid overloading your washing machine, first determine the capacity of your washer. If your washer will hold 20 pounds of laundry, find the correct weight by measuring laundry into a trash bag and weighing it on a bathroom scale. This will help you to know the approximate weight of future loads as well. Next, add the recommended amount of laundry detergent. Select the desired cycle and water temperature for the load. Add the laundry, loosely stacking each item and distributing evenly to be sure the load is correctly balanced. If yours is a top-loading machine, avoid winding large items around the agitator.
Laundry that has been properly washed will be evenly damp, smell fresh and be free of suds and grime.  While it may be tempting to stuff the washer to the brim, in reality you'll be wasting time and money because the clothes won't get clean and you'll have to start from scratch. Respect your washer's capacity, and both you and it will live a much happier life.