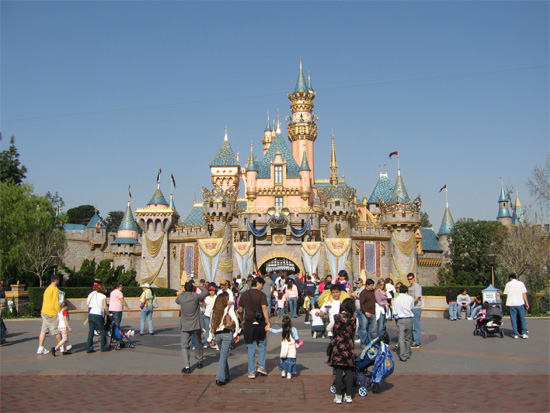 If you have a Disneyland vacation coming up, you are sure to be asking yourself what to wear. Since Disneyland is located in sunny Southern California, the obvious answer to that question would be a tank top and a pair of shorts in order to be comfortable in the hot temperatures and to get a little tan at the same time. However there is much more to think about than just that.
If you are visiting Disneyland in the summer, you will definitely want to wear shorts and a tank top or a lightweight T-shirt. Opt for lightweight shorts, especially synthetic ones which dry quickly and help to keep to cooler. Remember to also bring a lightweight shirt with either long or short sleeves, especially if you are wearing a tank shirt, for a number of reasons. It will provide a little more warmth if you are in an air conditioned room or restaurant for a long period of time. It also provides sun protection if you notice that your shoulders are beginning to get sunburned.
Here is the surprising thing that you need to know about dressing for Disneyland. Southern California does not always have scorching hot weather. During the winter months, daytime temperatures go down to the 60's and nighttime temperatures go to the 40's. Therefore you need to dress accordingly. If you are planning to take in any of the early evening Christmas events at Disneyland, you will need long pants and long sleeves. A jacket is also typically needed. You may also need the same clothing on certain cool winter days in Anaheim. Be sure to check the weather before you go so you can be prepared. Layering is the best strategy for staying comfortable.
What to wear on your feet is a major concern. While many people think that sandals are a great choice for a day spent mostly outdoors, in reality sneakers are a much better choice. By wearing good supportive sneakers your feet will be comfortable all day long. Be sure to wear cotton socks also to absorb perspiration and to keep your feet dry. Sandals and new shoes are poor choices for Disneyland because they are a recipe for blisters and sore feet.
In terms of accessories, your visit to Disneyland is one of those times when you really want to dress for comfort and not for style. Leave pricey jewelry at home. Even costume jewelry is not advisable because you may damage your pieces through perspiration, getting wet or getting them caught on something. Be sure to choose a small lightweight purse for maximum comfort. Get one that you can wear across your body for extra security. Thefts do occur in the happiest place on earth.
By preparing well for your trip to Disneyland, you can be sure to enjoy the absolute best visit possible. Comfort is key. By taking care of a few small details ahead of time and making good clothing choices, you will be ahead of the gang.