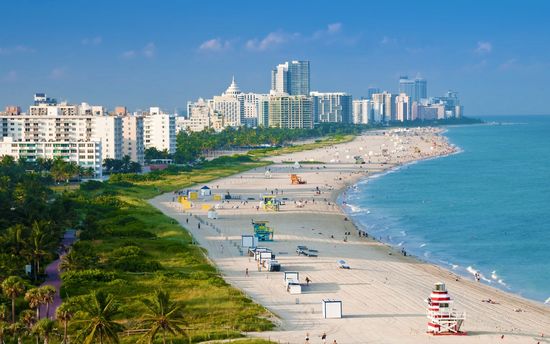 The Sunshine State is the place where so many people dream of living or at least vacationing for long periods of time. Beaches, great weather, no snow, great scenery and lots to do: what's not to love? However, if you are heading to Florida there are some things you need to know about what to wear there.
What you wear in Florida depends on where you are going and what you will do; in addition to the time of the year you are there. An outfit that is suitable for Miami may not be suitable for a small town like Ocala. If you are planning to visit amusement parks, you will want to choose lightweight clothing that is suitable for the temperature outside and comfortable footwear. Nightclub wear in most bigger cities in Florida is similar to summer clubbing outfits anywhere around the country.
If you are in Florida on business, note that business casual is the most common type of required dress. Florida in general is very laid back in terms of fashion; however, you may want to check into the specifics of what the dress code is for the companies you will visit, as business casual is defined differently by different companies. You can bet on the fact though that shorts and flip flops are not a part of the accepted items of clothing.
North Florida and South Florida have different climates. Miami and surrounding areas are much more tropical than Jacksonville and other more northern spots in the state. While the Sunshine State does not get snow, the northern end may have some nights of frost during the winter months, so clothing that one would wear in the fall is suggested for winter wear. Miami rarely has such extremes and while a light jacket may be advisable on a winter night, the days should be pleasantly warm and require lightweight clothing.
Beachwear is extremely important in Florida. It is vital to have at least 1 swimsuit, if not multiple swimsuits that you can wear to the beach or pool. Choose a suit that fits well and is flattering to your figure. It is also important that you can move in it and actually use it for swimming if you desire. In fact, if you choose a suit that doesn't meet this criterion, you should invest in another suit that you can use when needed. In addition you will need a beach cover-up. This is simply to get you to and from your destination in maximum comfort and a little modesty.
When it comes to footwear, there are really three choices: sandals, flip flops or sneakers. If you are planning to do a lot of walking or any exercise at all, it is sensible to bring along a pair of good sneakers. Your feet will definitely thank you. Flip flops are a must for a quick trip to the beach, pool, shopping or just hanging out. In fact, flip flops are practically a part of the Florida uniform. Sandals are great for dressing up, going out or anytime you want something cool but not as casual as flip flops. For comfort's sake, avoid boots or closed shoes unless you are coming to the state for business and in the winter months.
Get your Florida outfits ready and hit the Sunshine State now in style!