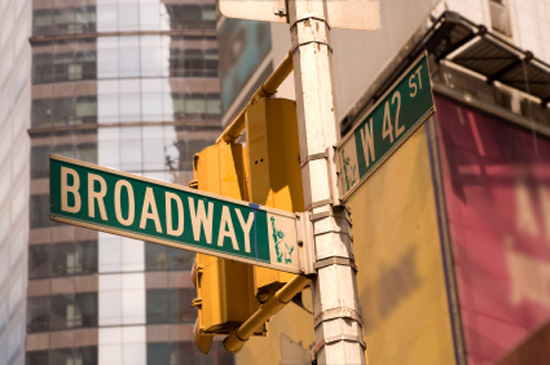 The next time you are in New York you may feel the bright lights of Broadway calling your name. When this happens you will no doubt want to know what to wear to a Broadway show. While Broadway has no real dress code you still don't want to show up looking too formal or too casual so you have to find that perfect balance in between.
Many times at a Broadway show it is not unusual to see the occasional tuxedo and it is also not unusual to see the occasional jeans and t-shirts, but the people that wear these seem to stick out. In order to better blend into the crowd you will want to go with dressy-casual attire so you not only look your best but you also feel comfortable as well. Here is how you too can pull off the Broadway look:
WOMEN
•    Dresses: You can always look your best in a dressy, but not formal dress. This type of dress can range from a sun dress for when the weather is hotter, to a longer flowing dress that comes down past your calves. You can compliment this look with a nice pair of strappy sandals.
•    Work attire: If you are coming straight from work then shed your work blouse and replace it with a satin or sequin top. Trade your work shoes for a pair of sling-back pumps and you will be all set.
•    Accessories: You will definitely want to accessorize, but don't go all out. Try to find a nice mix of low key jewelry and stay away from big hoops or things that hang too low. You should also choose a smaller purse that won't be so cumbersome when you are sitting down to enjoy the show.
MEN
•    Work Attire: If you are coming straight from work just leave on that suit and tie as it will look great going into the show. If that's too dressy for you then shed the tie and unbutton a couple of top buttons on your shirt and trade your suit jacket for a sport coat.
•    Pants and shirts: If weather permits you can wear a nice pair of dress pants and a great looking sweater up top. Of course if it is hot out you will want to go with some sort of lightweight button down but you will still want to go with long sleeves. If you are feeling ultra confident you can also go with a classy looking pair of jeans with a button down shirt and top off the outfit with a sport coat.
•    Shoes: This is a no brainer for the guys; wear your dress shoes. Leave the sneakers, flip-flops, and even the cowboy boots in the closet. If your shoes look dull, give them a quick polish and shine just before you head out for your night on Broadway.
Now you are ready to go enjoy that Broadway show you have always wanted to attend. A word of warning; silence your cell phone as soon as you arrive. While you want people to check you out, you don't want it to be because of your cell phone blaring out in the middle of the performance.