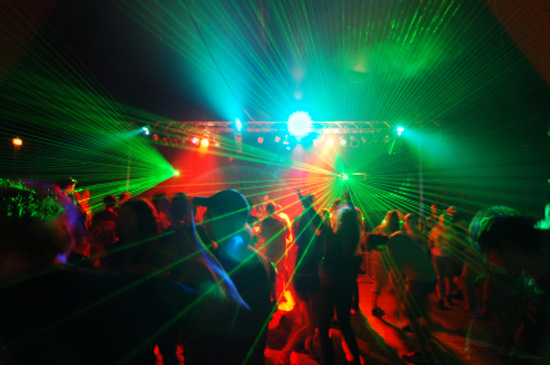 If you're planning a trip to Europe, or going to a 1970s themed costume party, you may want to consider the disco look. Disco was very popular in the 1970s. Disco refers to both a type of music, and the type of club that this music is played in. Disco is short for the French word discothèque, which means a dance club where recorded music is played by disc jockeys, instead of being performed live. In the United States, clubs have abandoned the term, preferring to call themselves "nightclubs" or "dance clubs," therefore dressing for a disco usually means a style reminiscent of the electric 70s.
There are two ways to go about dressing for a disco. The first way is to exaggerate the look. Exaggeration is most appropriate when going to a costume party, or dressing up for Halloween. An exaggerated disco look is one that really expands on the stereo-typical party girl/ guy image of the 70s.
For women to dress in an exaggerated disco fashion, it requires some creativity and a lot of makeup. The hairstyles for women of the 70s were all over the place. Some people wore pin straight hair. Some wore hair with curls at the ends, and winged out bangs. Others wore cropped or pixie hair cuts. Even still, African Americans primarily wore afros and, in an exaggerated look, the afros should be very wide. Whatever hairstyle you choose, make sure it resembles a 70s do. No up-dos. It's a good idea to invest in a wig to capture the look.
Men wore afros, long, shaggy, straight hair, and uneven hair, or pompadours. When dressing in an exaggerated way, make sure to find a style that's as big as possible. You're creating a caricature. A lot of men wear curly afros to poke fun at the disco days. Afros are not only for African Americans. Anyone can wear them, and often to hilarious results.
Exaggerated dress would include tight pants, especially with bell bottoms. The bigger the bell, the better it is. Fortunately, the bell bottom style is returning, so it won't be hard to find a wearable pair of jeans. A lot of women wore gold lame halter tops, or anything shiny. A popular item on the dance floor, for both men and women, were one piece jump suits. Women often wore mini skirts or mini dresses. Many choose to show off their legs. Paired with mini skirts was a pair of high heel go-go boots. Go-go boots usually came up to the knees. Women sometimes wore mini shorts with go-go boots, so if you're not shy, you may want to implement this look.
Men were a tad more conservative. They sometimes wore suits to the disco, paired with a butterfly collared shirt. Exaggerate this style by wearing the shirt completely unbuttoned, showing off chest hair. If you don't have chest hair, you may want to purchase glue-on hair, or draw hair onto your chest with an erasable marker.
If you're not interested in looking like a caricature, you can instead pay homage to the disco era by dressing in the spirit of the 70s dance craze. To do this, hairstyles should be as natural as possible, but still in keeping with the 70s fashion aesthetic. Women can continue to follow the same rules as the exaggerated look, but no wigs are necessary. Guys don't necessarily need to have long hair, but slicking back shorter hair is important. There were no spiky hair dos in the disco era.
Dress should feature items that are shiny but easy to move around in. These include glittery tank tops, boot cut jeans, short dresses, and platform shoes. Men should also wear jeans, and an buttoned down shirt, preferably unbuttoned at least partially. Dressing for the disco is part showy, because you want to be seen, and part comfort, because you're there to party.