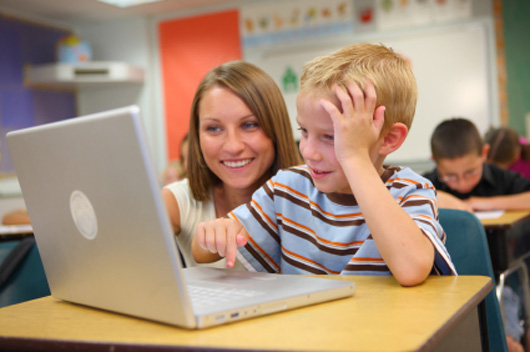 Dressing like a teacher seems pretty easy to most people. You go to your closet, you put on the first thing you see and out the door. However, it really is more complex than that. Teachers, like their students, often have dress codes to respect, some actually written, while others are simply common-sense guidelines.
The fact is that teachers get a bad deal when it comes to fashion. Let's face it: these ladies (and gentlemen) have a tough job. You can't blame them for wanting to be comfortable. They also have to be tasteful yet professionally dressed. The classroom is not always the place to make a fashion statement. For this reason, some teachers grapple with the right thing to wear and sometimes result to some dorky outfits.
Here are some guidelines about dressing if you are a teacher.
•    Don't wear anything that is too tight, low-cut, revealing or overtly sexy. If you'd feel comfortable in a nightclub in your outfit, it's not for the classroom.
•    Cover up. Make sure you don't wear short shorts, in fact, no shorts are better. Even if you live in a hot climate, shorts are not considered business casual, so don't wear them for school either.
•    If you wear a sleeveless shirt, make sure the shoulder portion covers at least most of the top of your shoulder or have another top to go over it that you plan to keep on all day.
•    Choose clothing that is practical in terms of laundering. Chances are, in a classroom, especially if you have younger students, you will get dirty. Leave your dry-clean only items for socializing and make sure your teaching clothes are wash and wear.
•    Layering is always a good idea. It may be cold at the beginning of the day and warm up significantly when you have a classroom full of students. You may also have surveillance duty outside and need something heavier than what you wear in class. Have an extra layer that you can add or take off.
•    Keep practicality in mind. Wear closed toe shoes with a comfortable heel that you can stand in for a long period of time.
•    Watch the length of your skirt and how you sit when you are wearing a skirt. Often teachers climb up on furniture for things or sit on the floor. Doing so may expose more than you want unless you have the right type of skirt.
•    Apart from that you can pretty much wear anything you want as a teacher, especially on special days. If you have a sports event you can wear sports clothes. If you have some special thing happening at school, you may even have a customized T-shirt to wear. The rest of the time you can wear casual or even business type outfits to class, depending on your own style.
Dressing like a teacher doesn't mean that you are limited in what you wear. You just have a different set of factors to take into consideration compared to professionals in other jobs. Teachers are hard-working and underpaid, so style is not always at the top of their list of things to be concerned with. Luckily, that's not what counts the most.