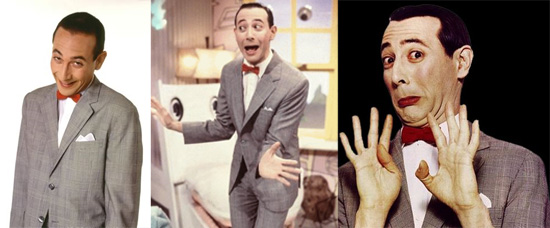 In the mid-80's there was probably no one on the earth who didn't know who Pee Wee Herman was. Even today over two decades later the character still continues to make people laugh with his antics. The character was created by comedian Paul Reubens and was known for his goofy talking, walking, and his signature suit that never changed.
Dressing like Pee Wee Herman is easily accomplished if you have the right suit, which actually has to be wrong somewhat, and a few accessories. Because Pee Wee's wardrobe never changed it is fairly easy for you to emulate him. Follow these guidelines and you will be able to look exactly like the lovable goof:
•    Suit: Pee Wee's suit is a charcoal grey one and if you are going to dress like him then you have to get one that is too small for you. If your pants length is a 32, then you will want to go with a 30 and so on. Yes this will make your socks show and if you look at pictures of Pee Wee Herman that's exactly what you will see. The same goes for the jacket. Make sure it is too small to fully cover your arms, but not too small to button. Pee Wee always had his jacket buttoned in the front. Since the suit is the main piece in the wardrobe, you have to make sure you get it right, which is to say you get it wrong in size.
•    Shirt: Pee Wee's shirt was a regular white collar button down shirt that you might see a stock broker wear under a suit. The trick is to wear one that is short sleeved. The reason for the short sleeves is that the suit jacket will be too small and when you move your arms about, part of the Pee Wee look is having the jacket slide up to reveal bare flesh. If you wear a long sleeved shirt, you will ruin the effect.

•    The socks and shoes: Pee Wee loved white. His socks were just plain old tube socks and they were always screaming white. Be sure to pull the socks all the way up for the total effect. His shoes were slip on dock sliders and were also white. When choosing shoes you can go with any low top white shoe, just make sure they are bright white.

•    The bow tie: This is the piece that ties the entire outfit together. Pee Wee always sported his signature red bow tie. Don't go crazy here and buy one that is too big. Pee Wee always had a tiny one so one that is too large will kill the look.
Now you are set to dress like Pee Wee Herman. To finish off the look, get some hair gel that really holds and slick your hair down. The last step in the Pee Wee Herman transformation is to start saying phrases like, 'la, la, and la, 'and' hu, hu.' Add to that an extra dose of goofiness in your mannerisms and no one will be able to tell you from the real thing.