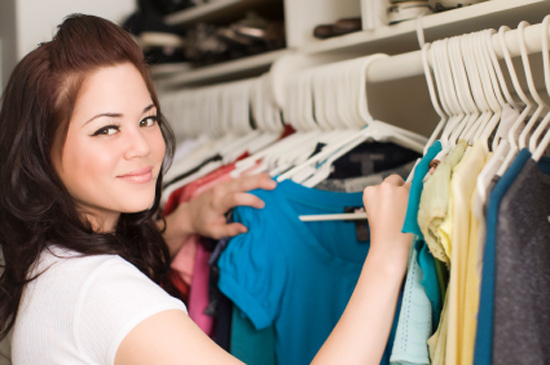 A clothing swap is a great way to get some new-to-you clothes, while not paying a penny. In today's tight economy people are trying harder than ever to cut corners where they can and save money. For this reason clothes swaps are becoming more and more popular amongst groups of friends, neighbors, social groups and even churches. You can easily organize a clothing swap yourself to get some different looks for you, your kids or even the man in your life.
The first step to decide on the theme of your clothing swap. You may want to have a swap for any and all clothes. This works well if you are doing a swap with a smaller group or if you have a huge space. However, for the sake of organization, and especially if you plan to have a large number of people participating you may want to limit the type of clothes. You could choose a kids-only swap, adult clothes only, a seasonal clothing swap or even a specialty swap like Halloween costumes, formal wear or outdoor winter wear.
The next step is to choose the place and time. The larger the space you have available the bigger and better your swap can be. Try to find a community center, church hall or other area free of charge to hold your swap. Alternately you can hold it in your home, but limit it to one or two rooms only and give attendees limits on the number of items they can bring. Choose a time that works well for most of the people in your group. If you plan to do a swap amongst friends, a Saturday morning brunch swap may be fun. If you have a group of stay at home moms who are doing the swap choose a weekday and be prepared to have kids around.
The next thing you must do is set the rules. How many items can a person bring? Will you accept stained clothes? Do items need to be hung? Some general rules are sort of common sense but must be shared prior to the swap. All clothes must be laundered. Put outfits together. Don't bring worn out, ripped or majorly stained items. The order of choice is next to be set. It may be determined by drawing names or by the number of items someone brought. If allowing one person at a time to choose, you need to remember that your clothing swap will take a long time. Only do a round or two of this method and then allow a free for all. You may want to log in the number of items a person brings and allow them to leave with that many or fewer.
Invite people to take part in your swap. State that the only way they can come is by bringing items to swap. Make sure you invite at least double or triple the number of people you would like to see show up. Keep in mind the types of people and the theme of your swap. If most of your friends have girls only, don't invite the one mom who only has boys. No one will want her stuff and she will find nothing she wants. If you are having an adult clothing swap and most people you are inviting wear size 12 and over, don't invite your friend who is a size 2.
Lastly, have a plan for leftovers. You will find at any swap that there are things that are not chosen. Allow those who brought such items to take them home again if they want. The remainder should go to Goodwill, a church clothes closet or some other non-profit group which could make use of the clothes.
Good luck with your clothes swap.