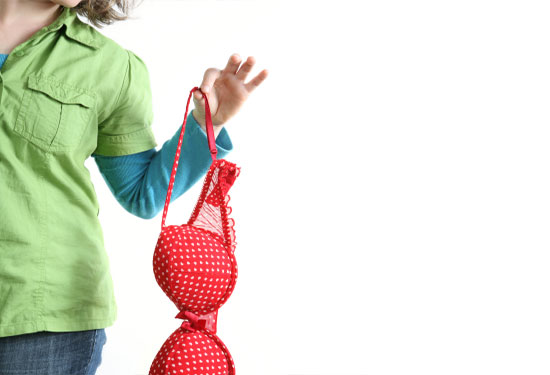 Most people have a love-hate relationship with bras. If you're a guy, you love them because of the sex appeal associated with them. There's nothing sexier than a woman lounging in a lacy bra and panties, and Victoria's Secret knows it. If you're a girl, you probably hate wearing a bra because it can be uncomfortable. Not to mention the trouble ladies have finding the right bra size, or the costs associated with buying bras (who knew that a little bit of stretchy material, a clasp and some straps could be so expensive?).
Despite the downsides, nearly every modern woman wears a bra. In fact, most couldn't imagine life without the contraption. Many wear them because they are large-breasted and need the extra support that a bra provides. Most do it because it's just something that women are expected to do. Society has set a dress code standard which includes bras for women, and so women must follow it in order to function in certain situations. Just imagine what would happen if a professional woman started going bra-less at the office! Not only would tongues be wagging, but her career track could take a serious downturn.
But there are times when it's fun to throw caution — and that annoying underwire — to the wind and dare to go bra-less. Perhaps you want to spice up your love life with your significant other, or you want your date to know that you are REALLY having a great time. Or maybe you're sweating it out at the beach and just can't stand those trickles of perspiration soaking into your bra anymore. Knowing how to remove a bra while wearing a shirt is a trick that comes in handy in these situations.
Here's how to remove your bra while wearing a shirt:
1.    If you're planning ahead of time to remove your bra (think the really hot date), the best shirt to wear is a spaghetti-strap tank top. Begin by reaching under your shirt and unclasping the bra behind your back. If your bra snaps closed between the breasts, simply reach a hand up between your body and shirt and unhook it.
2.    Next, pull one strap of your bra over your shoulder and down so that it rests on your bicep. While holding your tank top in place, slip your arm up and through the bra strap. Your spaghetti strap should be in the same place, while your bra strap should be hanging down.
3.    Perform the same process for the other side of the body. Both bra straps should now be hanging down.
4.    Reach up under your shirt and remove the bra. Voila, you're now au naturel!
Some studies suggest that it is healthier for women to not wear bras, especially tight bras, because they put pressure on the breasts and surrounding areas. This, in turn, prevents the flow of lymph, which flushes toxins and other wastes from the body. Experts have cautioned that women wear bras no more than 12 hours a day, so take off that bra and enjoy the freedom! Your breasts will thank you.