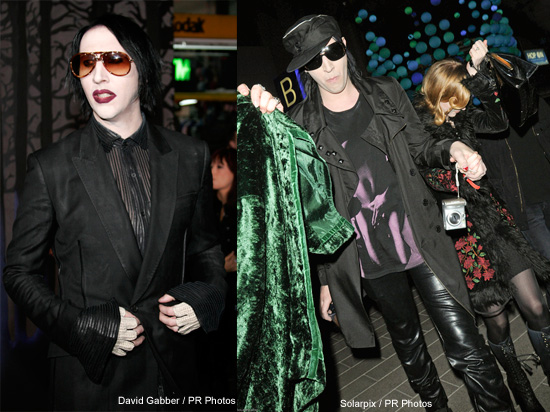 For years now Marilyn Manson has been creating controversy both on and off the stage. The singer derived his stage mane by combining the names of Marilyn Monroe and Charles Manson and his style of heavy rock combined with some pretty drastic and vulgar lyrics simply adds to his persona and has gained him much media attention. Despite his oddities, he is very popular and his look is one that many wish to achieve.
To dress like Marilyn Manson you have to think one thing only; black. Manson's way of dressing is as dark and sometimes twisted as the lyrics for some of his songs. Here is how you too can dress like Marylyn Manson:
•    Pants: Manson almost always wears tight black leather pants. Occasionally he will wear a suit to sort of mock the working man, but the pants will still be a dark color. About the lightest color you should ever go when trying to achieve this look is a dark charcoal grey. Still, a surefire way to nail Manson is with black leather pants.
•    Shirts: You have lots of leeway here. So long as the shirt is black, really anything goes. Manson likes to wear regular button down shirts that he leaves un-tucked and sometimes these shirts even sport pin striping. When he wears button down shirts he usually wears a black tie to go with them. Manson has also worn shirts that range from black leather to a woman's tube top. There really is no way to say for sure as he continues to surprise with every appearance he makes.

•    Jackets: Her you can go with a regular black sports jacket or a black leather jacket. You can even go all out and wear a black trench coat that is of course leather.

•    Shoes: You guessed it, black leather boots. Manson wears his boots no matter what type of outfit accompanies them. His boots typically come up to his calf and he usually tucks in the pants that he wears into the boots.

•    Accessories: Here again you have lots of leeway. Spiked collars and bracelets are always a nice touch and Manson seems to like to wear black derby style hats from time to time. He is big on rings that feature skulls and other such goodies. You can also acquire a pair of contact lenses that make your eyes appear to have no color, just a black dot n the center.

•    Hair and make-up: To properly pull off the Marilyn Manson look you have to go all the way with your hair and yes, you have to put on make-up too. Your hair should be one length and no longer than shoulder length. Color your hair jet black and either slick it back or part it down one side and slick it down. For make-up you have to go for the dead look. Manson uses lots of powder to create a white looking face and then darkens all around his eyes in black. Finish off your make-up with black lipstick and you are ready to go.
All that is left for you is to begin to write some songs that have deep and twisted lyrics and create some controversy of your own all while dressing like Marilyn Manson.