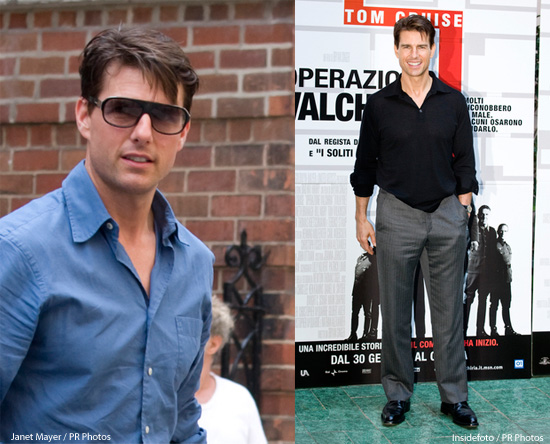 Tom Cruise has been a big name celebrity for quite a number of years. The handsome mid-forties actor is often front page news, especially in the celebrity magazines. Famous for his award-winning roles in a variety of hit movies, he is the epitome of a movie star. As such, his every move is documented by the paparazzi. We get to see a variety of Tom Cruise fashion statements because he is in such demand by photojournalists. He is often photographed at special events, openings, family outings and even while running errands.
Dressing like Tom Cruise is relatively easy to do. One of the standards in his wardrobe is jeans. He mixes and matches them with the most casual of looks to much dressier looks. He opts for a variety of colors in jeans, from faded ones to black jeans. He is often seen in short-sleeved fitted button-down shirts, as well as in long-sleeved traditional shirts. Occasionally he wears T-shirts, but mostly as a part of a layered look, which he often favors. He can also be seen wearing long-sleeved sweaters and tees, although they are always form-fitting.
One of Tom Cruise's favorite types of footwear is sneakers. Often paired with jeans, even on the red carpet, Tom typically wears white sneakers. Rather conservative in his choice of footwear, his other most common look is plain black dress shoes.
A typical Tom Cruise outfit to easily recreate is the sports jacket over a button down shirt, paired with nice jeans. This is a true Tom uniform and is often what he is wearing when photographed at restaurants, openings and even celebrations. Another favorite look often worn by Cruise is head-to-toe black. He is often seen wearing a black suit with a black shirt underneath for a sleek, stylish look. A solid black tie and patent leather black shoes complete the outfit. He also dons nice light colored suits on occasion.
An absolute must-have for anyone looking to dress like Tom Cruise is sunglasses. He is most often seen wearing aviator sunglasses. However, he also chooses other styles of dark glasses.
For special events that require dress-up, Tom can often be seen wearing the traditional black suit, with a crisp white shirt and a tie. However, he often chooses to go without the tie. His black suits always tend to have a little shine to them or a touch of glamour that makes him stand out.
For a man who wants to imitate the everyday style of Tom Cruise, it is rather easy to do. Jeans matched with nice, pressed button-down shirts and either sneakers or black shoes are a look that any guy can pull off. Tom does not tuck in his shirts, so be sure to choose shirts that have a straight hemline. Layering such looks with a blazer can also help to create a great look for going out.
Get your wardrobe basics together and create some true Tom Cruise outfits for style that is sure to attract.