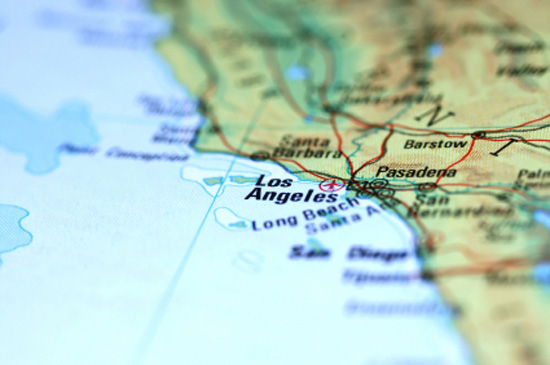 Los Angeles brings to mind sun, glamour, glitz and high fashion. The city is known for being home to countless celebrities. It is also a Mecca for healthy living and exercise. Having a great body is a must in Los Angeles and the styles that you see on the streets and just about everywhere you go will prove it.
Many people are surprised to learn that there is very little temperature fluctuation in Los Angeles throughout the year. Winter daytime temperature averages are mid-60s, while summer averages mid-70s. It is quite comfortable year-round. No matter when you go remember to bring a light jacket or sweater for the evening because it can get chilly.
If you are planning to go to Los Angeles you will need to choose the right clothes in order to fit in there. That means clothing that is form fitting and shows off your physique, which of course must be buff. Short shorts, figure hugging capris, skinny jeans, tank tops, tight T-shirts and mini-skirts are all acceptable for shopping, hanging out with friends or sight seeing if you have the figure to pull it off. If not, choose outfits that are comfortable, lightweight and camouflage what needs to be camouflaged while accenting your assets.
Los Angeles is known as being a laid-back city and California casual is pretty much the standard for dressing there. You can go almost anywhere in the city in jeans. In most good restaurants you will find patrons in jeans or other casual outfits. However, some of the very upscale restaurants may require business casual type outfits before serving you. When opting to go the jeans route, you can always opt to dress up the outfit with heels or fancy sandals and a pretty top. For guys, pressed jeans and a shirt with buttons is a great dressy casual look.
If you are packing for a trip to LA, remember to bring a bathing suit and cover-up. Flip flops or sandals are also a good choice for the pool or beach. You will also want to bring along a hat for sunny days if you plan to spend a lot of time outside. Comfortable shoes or sneakers are a must if you plan to do walking tours or go shopping. Keep your sunglasses nearby also because even though the temperature is not extremely hot, it is usually sunny in the City of Angels.
If you plan to check out the nightlife in LA, get dressed up. You will want to bring along a nice dress or a hot skirt and a dressy top. High heeled shoes should complete your outfit. Guys have more freedom in what they choose to wear clubbing with jeans being the most common choice. Remember, in the entertainment capital of the world you never know who you'll run into when you are out on the town.
Have fun in sunny LA, stay out of the traffic and relax in one of the most exciting cities in the country.