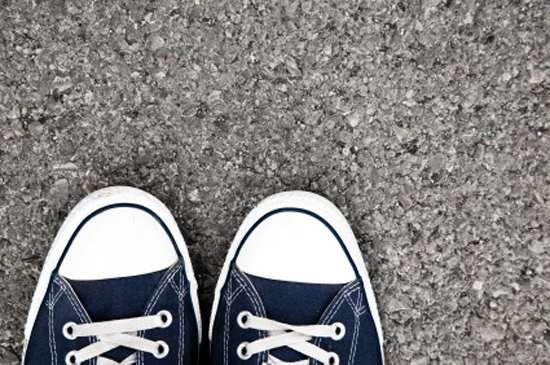 Converse shoes are the shoes that won't die. These classic style shoes have been dressing the feet of young and old for decades now and it seems everyone on the Disney Channel is fully stocked with these classic Chuck Taylors. The company is over 100 years old and it seems that their popularity has grown with every new generation.
Part of the attraction to these iconic shoes is how they look great with almost anything and with the casual shoes with the formal attire look being made popular by teen icons such as the Jonas Brothers it is no wonder that the shoes are seen everywhere you look. Here are some tips on what you can pair with your Converse to look absolutely fantastic:
•    Jeans: This is one for the guys and the girls. Wearing jeans with your high or low top Converse are a great look. Manny guys like to wear the high top style of Converse with a nice pair of form fitting jeans and top it off with really any kind of shirt they like. Girls tend to stick with the low top Converse and also go form fitting. A popular trend among the Hollywood starlets is to wear skinny jeans with their Converse low tops so if you too can pull of a pair of skinny jeans then go for it. Like the guys, top off your jeans with your favorite shit as really anything goes.

•    Business rebel: This is the look that the Jonas Brothers are making extremely popular. To nail this look start off with a pair of Converse high tops that are a bright color like red and then wear dress pants. Up top you will want to go with a long sleeved button down shirt that is collared but leave the top two buttons undone and 'pop' half of the collar. A neck tie is a must with this look but be sure that it is tied loosely. Finally a mismatched jacket is worn.

•    Skirts: So many Hollywood starlets can be caught wearing a various style of cute skirts with a short sleeved top and what is on their feet; high top Converse. When you go for this look you can go with red Converse and a 'school girl' style skirt or you can go with a black skirt and a bright color of Converse such as yellow. This is a fun style so when you are putting this type of outfit together you too should be having fun with it.

•    Dresses: The ladies can also wear a number of dresses that come down to the top of the knee and match the dress with a low top pair of Converse. Stay with solid colors when tackling this look, such as an all white dress and white low top Converse.
If you don't already have a pair of Converse on your shoe rack, go get yourself a pair. The shoes are timeless and will probably never go out of style and the best part is you can wear them with practically anything.