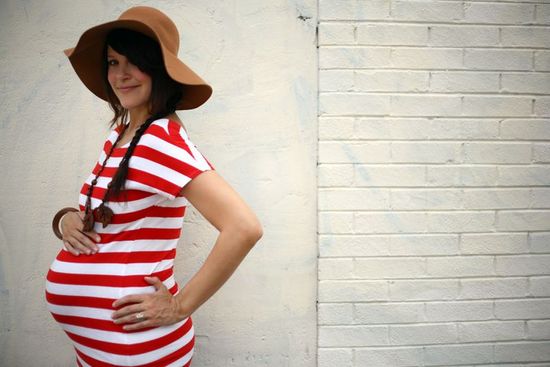 Discount Maternity Clothes
So you are pregnant. Congratulations on the new addition to your family. Hurray, it's time to go shopping for new clothes. Where do you go for those new clothes for your new body? How do you know exactly what you will need? That belly of yours is showing nothing at the moment is going to be a baby bump and soon you might look as if you swallowed a beach ball. Now shopping for clothes seems like a more daunting trip to the mall. What is a pregnant mom to do?
Of course you will have to have new clothes; your body is in for a big change. You may have specific requirements based upon your job. Eventually you will need a new bra because your breasts are guaranteed to grow with each passing day. Plus you will need comfortable clothes for all of your other life activities. But do you need to buy all these items brand new? The answer to this question is no.
Since maternity clothes don't get worn as much as other types of clothing, you can find them in excellent condition in consignment or thrift stores. Often a mom will purchase an item and it will only fit for a short portion of her pregnancy. The best type of consignment store to look for maternity clothes is one that specializes in baby and children clothing. The key to consignment and thrift shopping is to check the stores frequently. Most store owners are willing to give you a call if an item you are specifically looking for comes in.
Another option is gently used items is online. There are number of online retailers. Find the stores using a web search and then shopping from the comfort of your own home. There are always the ever popular auction sites.
A favorite way to grow your maternity wardrobe is your friends. Most moms-to-be have friends who have recently had their baby. Ask your friend if you can go shopping in her wardrobe. Even if you are not the exactly same size, often you can wear the bottoms or tops. Your friends will always know other new moms who also may have maternity clothes she no longer needs. This is a great opportunity to make new friends as well as score some clothes. Trust me; all new moms need friends, even more than jeans that fit.
Don't despair if you find a cute piece but it is a little too big. You have two choices here.  If you are in the early part of your pregnancy, set the item aside, it may fit in a few weeks or months. If the fit problem is the length of the item, alter it. Hemming a pair of jeans or a skirt a few inches is no big deal. If you don't want to tackle it yourself, find a shop that does alterations. (Hint, check your local dry cleaners.)
Once you have visited local consignment shops, your friend's closet and checked online, personalize your new wardrobe. A fabulous way to do this is with personalized t-shirts. Check out the slogans on other pregnant moms' shirts, celebrity moms, or make up one of your own. Then go out and show of that blossoming baby belly in your new clothes. Hey, there is a slogan for you, Blossoming Belly.