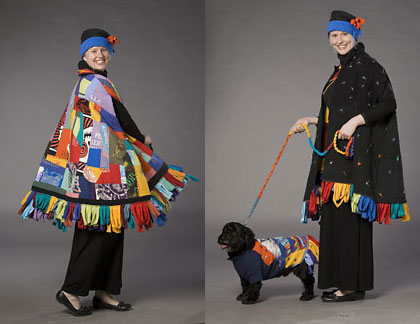 The Green T Reuse Design Contest was put on by Sew Green who is a non-profit organization in Ithaca who encourages sustainability in fabric, fiber and fashion. There were more than 100 entries in 15 categories by 60 designers from ages under 12 to over 70 and from beginners to professionals. One of the reasons SewGreen believes in this project of reuse and recycling of cotton t-shirts is because of how damaging and intensive it is to grow conventional cotton. Cotton actually uses 25% of the world's pesticides and herbicides but only takes up 2.4% of the usable farmland. Consumers also tend to frequently dispose of clothes, in fact over 70 pounds of clothing are given awan and 80 percent of those end up in landfills. As of now only about 3 percent of cotton is grown with organic farming methods.
The winners were an eco-fashion team called "the Realitee for Humanitee: Sustainabilitee" from Cornell's office of Publications and Marketing. They created a series of outfits from over 100 different t-shirts. The items created included a reversible cape, a hat that becomes a drawstring purse, a belt, a dog coat and designer leash. The winning designs will be featured in a gallery in the Communtiy School of Music and Arts from April 4-14 and in a Fashion show on April 27th.
For more information check out this article at Cornell.edu or SewGreen.