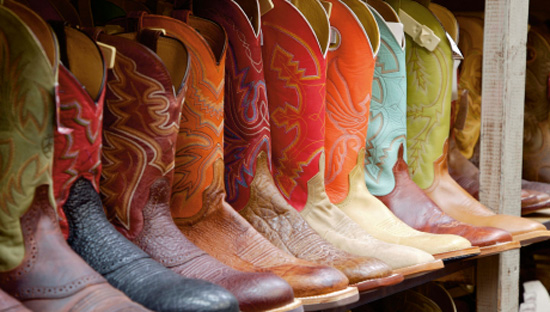 You don't have to be a cowboy to wear a pair of cowboy boots. Want proof? Just take a look around the next time you are out and about and you will see both men and women alike sporting their favorite pair of cowboy boots. If you are interested in a pair of cowboy boots there are several things that you should consider before you decide what you are going to purchase.
Knowing what you are looking at and what you want the boots for can mean the difference between buying a pair of cowboy boots that will be a great comfort to your feet and buying a pair that will leave many blisters behind. Here is what to look for:
•    Style: There are hundreds if not thousands of styles of cowboy boots that you can choose from but the western style boots that are so popular fall into two categories. The first is traditional and the second is fashion. The traditional boots have more of that classic look that has been around since the age of the cowboys and are the kind of boots that you would see in an old western film. The fashion boots have a more urban or contemporary look to them and are generally worn by women. These boots were made popular by movie starts like Jessica Simpson, who actually has a line of cowboy boots.
•    Material: With cowboy boots you definitely get what you pay for. If you find a pair of boots that are extremely cheap that will be because they are made of cheap materials. Leather is the material of choice when it comes to cowboy boots but there a number of other materials that are popular as well which include crocodile skin, python or snake skin, and ostrich hide. A pair of boots made with quality materials will definitely cost you more, but they will also stand the test of time much better than that of an inferior pair.
•    Shank: The shank is the upper part of the boot and can range significantly in how high up the leg it comes. The traditional style has the shank covering the entire calf while the more contemporary styles, also known as packer and stockman boots, usually come up to just under the calf and these types are more often worn by women. Shank height is strictly a personal preference.
•    Toe: You can choose a more pointed look here or go with a more rounded toe; it is really all up to you. The traditional boots of the old west had the more pointed toe, so if you want the traditional look go for the pointed look.
•    Heel: Here is a point that many overlook. If you are buying your boots and intend on dancing in them then you want to be sure that the heel is not too tall. There is no set standard here, just consider what you will be doing in your boots.
Finally, be sure that you actually try on your boots before you buy them. Cowboy boots come in so many styles and colors but if they don't fit your foot properly then there is really no point in buying them. When you do go cowboy boot shopping, plan on blocking out some time because just when you think you have found the perfect pair, another pair will catch your eye and call out your name.