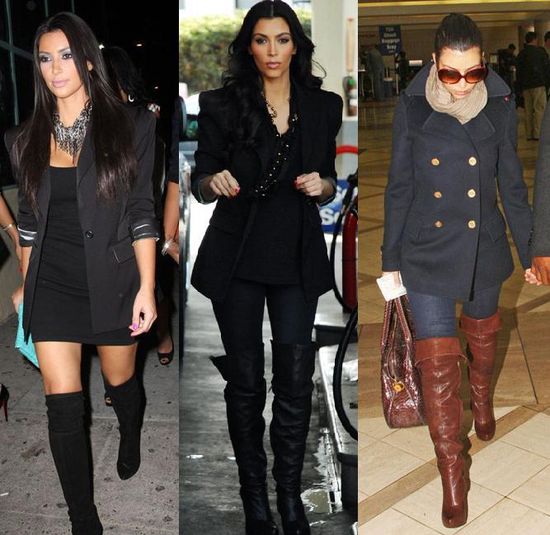 Kim Kardashian is one of the socialite celebrities that this country has become fascinated with, much in the same vein as Paris Hilton. The daughter of lawyer Robert Kardashian, she has become a well-known personality. She become a reality TV star as a member of the cast/family in Keeping Up With the Kardashians and was even a past contestant on Dancing With the Stars. She has become a well-known name and face in households across America from TV, her association with other big name celebrities and a sex tape scandal that she was featured in with another big name.
Kim Kardashian's fashion style is sexy, shows lots of skin and features practically nothing but designer labels. This stunning brunette beauty has professional sylists working with her on a regular basis to help her create the sense of style she portrays. Her ensembles for major events are even planned in advance and photos are taken of her in a variety of dresses, so she and her team can objectively see which ones flatter her best.
If you want to dress like Kim Kardashian, it will require some research on your part. I recommend bookmarking Kim's website, which has tons of photos of her in a wide variety of outfits for any and every occasion. Check it regularly to see what she is wearing now. This will help you to get a good idea of what exactly Kim's style is.
Dressing like Kim Kardashian could cost a lot of money if you plan to use the same designers Kim uses. However, there are tons of great places that sell designer knock-offs so you can buy a fancy outfit that looks almost identical to one of Kim's outfit for a mere fraction of the price.
Kim Kardashian's fashion style features a lot of black. She often pulls her straight, dark hair into a pony tail or some other simple style that shows off her face. She also favors accessories like big hoop earrings and flowing scarves. Almost all Kim's shirts are low cut showing off décolletage, off the shoulder or strapless. She also wears a lot of fitted jackets with silver or other light colored, low cut tops under them.
If you are looking to dress like Kim Kardashian, a great place to start is by getting a selection of custom-made T-shirts. Choose a lot of black tees in V-necks, scoop necks, princess necklines and square necks for a fun, casual everyday look. If it shows off some décolletage, it is definitely a Kim style. You may also want to invest in some lighter colored shiny T-shirts in low cut styles to put under a jacket in order to create a dressier going out look. You should also be sure to opt for T-shirts that are form fitting, as Kim would never wear anything that doesn't show off her assets. Just remember to work on staying in shape so you look good in that look too.
Get your selection of sexy custom-made T-shirts today and pull together your very own Kim Kardashian look.