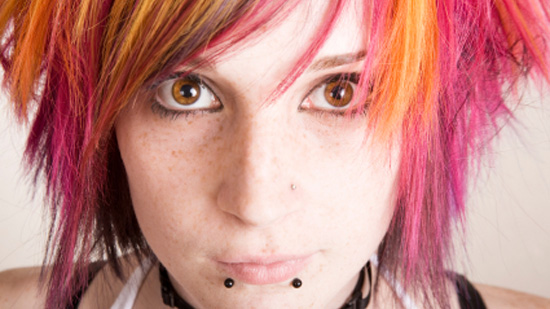 It may not be as common to dress punk anymore, but there is still plenty of great punk clothing out there to be worn. Dressing punk is all about going against the mainstream and rebelling against the normal order of things. To dress punk, there are a few basic elements to include in your outfits.
T-Shirts
T-shirts are a very punk item to wear. The most part, punk t-shirts are printed with punk band logos. These can be t-shirts from old concerts or they may be new t-shirts recently printed. The t-shirts should generally be black, white or a neon color. And if the t-shirt is torn up a little bit, that will contribute to the overall look.
Jackets
It's hard to be punk without a leather jacket. Punk style often revolved around wearing a black leather jacket with metallic ornaments on it. These might be metal spikes that could be on the shoulder or sleeve of the jacket. You can also attach buttons that represent punk bands to the front of the jacket. If the jacket has a lot of snaps or zippers, those will work perfectly. If the jacket has no metal adornments, you can put dozens of safety pins on it to give it that metal jingle.
Boots
Some punks wear Converse All Star hi tops, but often, the punk look requires boots. Combat boots are the epitome of punk, and they are still made by several different companies. Dr. Martens makes great combat boots in punk style and in many different colors. While black combat boots are the classic punk look, red and white also work well for the look.
Women can also wear high heeled pumps as a part of their punk look if they don't wish to wear combat boots. High heels can be very much punk if worn with fishnet stockings or with tight jeans that are rolled up at the bottom. The pumps themselves should be either black or in a bright neon color. If you can find wildly-patterned pumps, those will also work well.
Jeans
The best pants to wear when dressing punk are certainly jeans. Any type of jeans can be made to look punk, though dark blue and black jeans are generally the best types. But like everything else punk, you don't want them to look too mainstream. That's why slashing your jeans, cutting holes in them or even burning holes in them can make them look far more punk. Men generally wear black belts with silver studs on them that look like spikes.
Some girls wear jean shorts with torn up tights or shredded pantyhose under them as their primary punk statement. They may also wear very tight jeans with a t-shirt that is cinched with a studded belt. For women, the belt doesn't have to be black with silver spikes. It can be a white belt with spikes or a black belt with rivets or safety pins on it. It can also be in a bright neon color with a wild pattern on it.