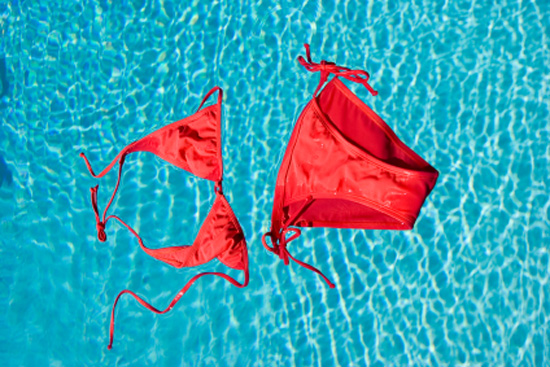 Regardless of how you treat it, your swimsuit gets a lot of rough treatment. It soaks in chlorinated water for long periods of time. Abrasive sand rubs the delicate fibers. Harsh chemicals, oils and colors from sunscreen products are smeared on your swimsuit. It is exposed to hours of bleaching sunlight almost every time you wear it. This is typical abuse of a swimsuit by those who are careful. However many people do worse by not washing their suits after each use, throwing them in a hot clothes dryer and other abuses. Knowing how to properly care for your swimsuit will ensure you get as much use as possible from yours.
Every time, without fail, when you are finished using your swimsuit, you should wash it out. Treat it like you would underwear. You certainly wouldn't wear underwear a second time without washing it and swimsuits should get the same treatment. In fact, if you are swimming in a chlorinated pool or hot tub, you should hand rinse the suit as soon as you take it off to get as much chlorine out of it as possible if you cannot get it to a washer right away.
It is important to hand wash or use your washer's gentlest cycle to wash your swimsuit. The fabric used in swimsuits is delicate and can easily get damaged when thrown in a regular wash cycle. Another thing to avoid is washing your suit with towels or jeans. The suit should be washed alone or with other swimsuits which do not have metallic additions on them. This is to prevent unnecessary damage.
Use a detergent that is formulated for delicates when washing your swimsuit. Such detergents are designed to work well in cold water, which you should be using to launder your suit. Make sure all the detergent has been thoroughly rinsed out, as residual detergent in swimsuits makes bubbles in pools and hot tubs.
When your swimsuit is adequately rinsed, roll it in a dry towel and squeeze gently to remove excess water. Then lay flat to dry. You may also hang your suit to dry if it is of a material that will not stretch. Be sure to get it as dry as possible with the towel before hanging it.
When the suit is dry, store it flat in a drawer until the next time you need it again. Hanging a swimsuit for extended periods of time is not advised. Some other things to avoid in the care of your swimsuit include the following. Never leave your wet swimsuit on the floor or in a bag for an extended period of time. Mold may grow on it and ruin the suit. Never throw your swimsuit in a hot dryer. It will compromise the material in your suit.
By properly caring for your swimsuit, you can get multiple seasons of enjoyment out of it. Learn what to do and what not to do to keep it in the best shape possible.