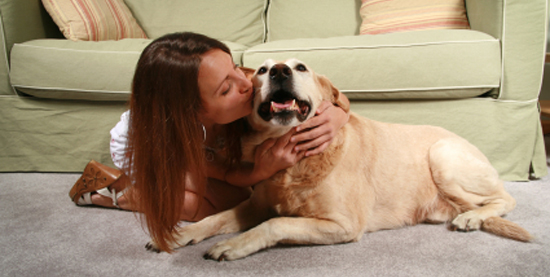 While nothing in life gives you pleasure like your four legged friends, nothing gives you quite the same feeling of madness when they urinate on your favorite cloths. Anyone who owns a dog or a cat has experienced this at least once –and probably a lot more- in the life of a pet. While there is nothing quite as nasty as the pungent odor that comes with the ugly stain, there is a rather easy home remedy to get both out in the wash.
First of all if your cat or dog urinated on your whites, like your undershirts, you are in luck. A simple wash cycle using a healthy amount of bleach should do the trick. But usually fluffy finds your favorite shirt, skirt, jeans, or slacks to relieve himself on and the solution is not so cut and dry.
For all other clothing try this simple method. First it is important to absorb as much of the pet urine as possible with paper towels. Blotting the stain usually proves the most effective. Next mix 3 parts hot water with one part of white distilled vinegar and soak the articles of clothing in the solution. Soak the clothing for about 35 to 40 minutes and then launder as you normally would. If you wish, an added measure can be taken to ensure the smell comes completely out. Simply add a quarter cup of apple cider vinegar in with your normal detergent and that should insure that the smell is gone.
For delicates the process is much the same except instead of using hot water use cold water. Also do not use the apple cider vinegar for anything that is delicate. It is better to soak it twice in regular vinegar if need be.
Once your laundry is done, it is important to make sure that the area where the clothing was is also ridded of the odor. If it is not, that is like telling your furry friend that they can have a bathroom break there anytime they want to. Using the same solution of vinegar and water usually does the trick for carpets and bleach and water does the trick if the wall was hit.
There are a number of cat and dog urine stain removers that can be purchased at a place like Pets Mart but when you buy those products you are taking your chances. Besides, most of those products are rather expensive as compared to a bottle or two of vinegar.
Remember cats and dogs are like children that never grow up. They can be fickle little creatures and will urinate on your clothing for a number of reasons. Some cats do it because of a full litter box and dogs sometimes do it because they just can't hold it until you wake up. The point is that your fuzzy companion will urinate on your cloths every now and then. It's just one of the joys of being a pet owner. But with the remedy discussed above, hopefully the next accident your pet has won't be such a big deal.