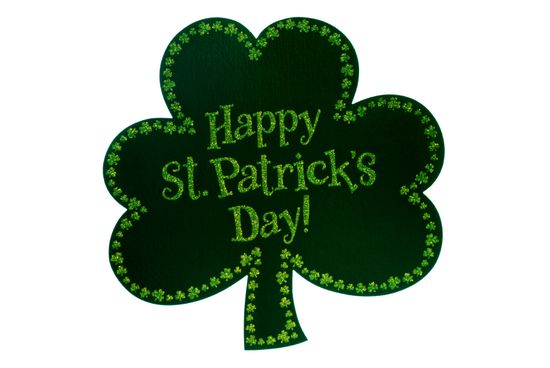 Long considered a patron saint of Ireland, the anniversary of St. Patrick's death in the year 493 has long been celebrated in the United States of America. Such observances marked the beginning of what was soon to become a national holiday, when in 1737, those of Irish descent joined in to celebrate Irish roots and Ireland in general. In 1780, the Friendly Sons of St. Patrick in Philadelphia officially observed the day, followed several years later by New York City Irish 'Sons'. Ever since then, American citizens, especially those of Irish descent, have recognized St. Patrick's Day as a national holiday.
Celebrated in America on March 17th every year, St. Patrick's Day is marked with green shamrocks and decorations, representing the green fields of Ireland, and with Irish beverages and foods. Apparently, St. Patrick used a shamrock to illustrate the concept of the Trinity; the Father, Son and Holy Ghost. He used the three separate lobes of the shamrock as an example of the three in one concept. Since then, the shamrock has been the emblem of the Irish people and few have ever left without carrying a shamrock or a piece of clover with them to their new country.
No St. Patrick's Day feast would be complete without corned beef and cabbage. Beer and other beverages make the rounds in pubs and homes not only in the United States, but throughout the world as well. St. Patrick's Day parades are especially common in Irish communities, as are games and local sporting events. Irish dances and jigs, as well as singing songs like "Paddy Whack" and "Rocky Road to Dublin" mark this special day.
Today, Irish-Americans and others celebrate the day by wearing green, and it's common for schoolchildren to pinch each other if they lack that particular color in their wardrobe on that so very green day. Households decorate with green streamers, shamrocks and hats and play Irish songs while pots of Irish stew bubble on the stovetop. New York City is known for it's huge parade on St. Patrick's Day. Thousands of Irish-Americans wishing to celebrate the day with a Mass at the famous St. Patrick's Cathedral on Fifth Avenue, as well as thousands more lining the streets around it, gather every year. Bands, bagpipes and Irish dancers provide entertainment while bands play "The Wearin' of the Green and "Spig o'Shillelagh' to the delight of crowds.
March 17th is known throughout the country as a 'Great Day for the Irish'. Whenever groups of Irish congregate, passersby will hear terms like "Erin go bragh", which means "Ireland forever', or Beannact Dia leat", which means 'God bless you'. Even the United States Postal Service recognizes the holiday, and mail posted that day gets a special Shamrock cancellation postmark. Every year, tons of shamrocks, with the dirt of the old country still clinging to their roots, arrive in the United States for planting on St. Patrick's Day.
The 'wearing of the green' has long been a tradition in America in honor of St. Patrick's Day, and local businesses get in on the fun by sometimes offering free dry cleaning to green garments or even discounts to those who enter their store 'wearing the green'. Many car wash owners will wash green cars for no charge. In 1959, President Eisenhower donned a green tie, while other prominent officials wore less obvious, though green, socks, met the President of Ireland, Sean O'Kelly, at the airport with a long green carpet. During the congressional meetings, all the delegates wore a green carnation in the lapel of their jackets. It was only afterward that O'Kelly leaned toward the president to mention the fact that he didn't particularly like the color green!
At any rate, St. Patrick's Day continues to be celebrated with the color green, in schools, restaurants, pubs and community halls throughout the country to honor Ireland's St. Patrick. Every St. Patrick's Day is filled with songs, shamrocks and Irish cooking, much to the delight of celebrants everywhere.