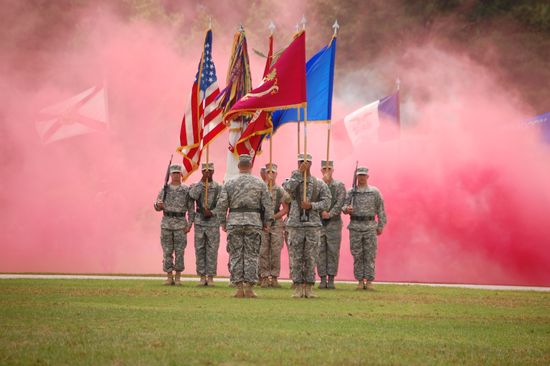 Armed Forces Day, which has been celebrated every the third Saturday in May since 1950, is a day in which all military service members from every branch of the military, past and present, are honored for their duty, loyalty and sacrifice to the United States of America.
In 1949, the United States Secretary of Defense created a single day for Americans to celebrate our national military: Air Force, Army, Navy, and Marine soldiers and support personnel. The President of the United States at that time, President Harry S. Truman, said the day should be recognized to "praise the work of the military services at home and across the seas," and that Armed Forces Day marked "the first combined demonstration by America's defense team of its progress, under the National Security Act, towards the goal of readiness for any eventuality." The New York Times said of the event, "This is the day on which we have the welcome opportunity to pay special tribute to the men and women of the Armed Forces, to all the individuals who are in the service of their country all over the world. Armed Forces Day won't be a matter of parades and receptions for a good many of them. They will all be in the line of duty and some of them may give their lives in that duty."
To this day, Armed Forces Day is a day for all civilians in America to stop for at least a moment to honor and thank those who daily put their lives on the line for the continued pursuit of freedom and democracy, both at home and abroad. Celebrated with parades, flag waving and military air shows, the day is one filled with pride and military splendor. In Washington D.C., over 10,000 military soldiers from each branch of the military, veterans and enlisted alike, participate in a parade before the President and his cabinet members. The event is televised throughout the nation, a spectacular display of pomp, ceremony and unity of strength. Throughout the world, military personnel from different branches and duty stations join in on parades and ceremonies that mark the special day. In many ports of America, grand old battleships are made ready to ceremoniously sail one more time, or at least open their bulkheads for Americans from all walks of life to step aboard a part of American military history.
Famous Americans make speeches and somberly honor the soldiers who have fought and died for our country, as well as those who serve, or have served, months or years of their lives in foreign countries in the name of security, freedom and democracy. Military personnel and veterans who speak of duty, courage, honor and loyalty visit children in schools around the country. Through the years, great military leaders have spoken of honoring American fighting men and women and the importance of supporting our forces. President Dwight D. Eisenhower said of Armed Forces Day, "It is fitting and proper that we devote one day each year to paying special tribute to those whose constancy and courage constitute one of the bulwarks guarding the freedom of this nation and the peace of the free world."
The first Armed Forces Day was celebrated and observed during a time of great world tensions, when the threat of nuclear war hung over every nation of the world, along with the threat of encroaching communism. Keywords today, some of which include dedication, devotion, appreciation, liberty, patriotism and unity, continue to serve Americans in their pursuit for freedom and democracy. Armed Forces Day should be recognized and honored by all Americans, young and old of all races, creeds and beliefs. A statement made by President John F. Kennedy in 1962 says it all quite succinctly. "Word to the Nation: Guard zealously your right to serve in the Armed Forces, for without them, there will be no other rights to guard."