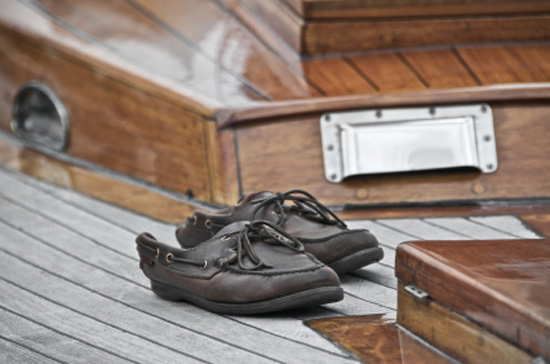 Boat shoes are a unique shoe in the fact that they are not quite a formal shoe and they are not quite an ultra-casual shoe like the loafer. Because it is sort of in between, the boat shoe can be worn with a wide variety of outfits. They are considered to be a three season shoe and the only season that you should not wear them in is winter.
About the only thing that you can't wear boat shoes with is a suit and tie or a tuxedo. Other than that, boat shoes go with almost anything. Here are some examples of what to wear with boat shoes:
•    Shorts and collared shirts: Wearing a nice pair of shorts and a 'Polo style' collared shirt will give you the casual preppy look. You can choose to tuck your shirt in if you desire or you can look equally as good leaving it untucked. Typically with this look you will not want to wear socks. You can complete the ultimate preppy look if you drape a sweater over your shoulders. Finish the look with a designer pair of sun glasses and you are dressed nice enough for just about any occasion.
•    Jeans and button down shirts: Some will argue that boat shoes don't look good with jeans and a button down shirt, but some will argue otherwise. If you decide to go with this look be sure to wear a looser fit of jeans as tight jeans will not look right at all. The shirt should be long sleeved and more of a casual button down as opposed to a dressier one. Leaving a few of the top buttons of the shirt undone will give the casual look that will look good with the boat shoes. With this look socks are optional.
•    Slacks and button down shirts: This is the perfect outfit for the boat shoe. A nice pair of khaki pants with a long sleeved button down shirt looks very natural. Like with shorts, you can drape a sweater around your shoulders to get the preppy look. The nice thing with khakis is that you can wear a wide variety of colors in relation to your button down shirt. Your boat shoes and khakis will look equally as well with a white button down or even a darker color button down like maroon or black. As with jeans, socks are optional with this look.
•    Socks: For two of the three styles it is totally up to you on whether or not you want to wear socks but you should stick to a specific style of socks if you decide to wear them. Go with ankle socks that are barely noticeable if you do wear socks as this kind will come off the closest to no socks which is the traditional look for boat shoes.
Quality boat shoes will not come to you cheaply, but if properly taken care of you can enjoy these versatile shoes for several seasons before they need to be replaced.