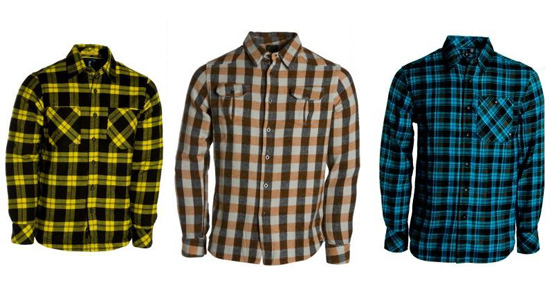 Flannel shirts have long been a staple in the wardrobe of lumberjacks, farmers and other tough outdoorsmen. This easily recognizable fabric is generally made from a wool and cotton blend, or wool and synthetic fiber blend. Because the yarn is loosely spun, it offers extra softness and is excellent at keeping in warmth in cold environments. A huge variety of clothing and household items are made from flannel. The most popular include pajamas for children and adults, shirts and bedding.
More recently, flannel has moved from a common household fabric to become part of pop culture. In the United States, flannel has become especially popular in Seattle and other areas of the cooler Pacific Northwest, where its heat-retaining properties are very useful. During the 1990's, the material became associated with grunge musicians and rockers of that locale, who frequently sported economical flannel in their appearances. Flannel styles were also popular among West Coast rappers during the same time period. Skateboarders, another rebel group, favor the fabric. Combined, these alternative groups have turned the wear of flannel into a bold fashion statement.
For fashion connoisseurs, the flannel of 90's grunge music was never really en vogue. Even among the super casual dressers, it is no longer fashionable to wear a t-shirt under an unbuttoned, questionably clean flannel shirt, Kurt Cobain style. But if you're a flannel lover, never fear. The material can still be worn, albeit replaced by a more tailored, sophisticated styling.
A number of celebrities have revisited the wear of flannel lately, incorporating it into their wardrobes for a "modern grunge" look. Lindsey Lohan, Rihanna, Kelly Osbourne and Kirsten Dunst have all been seen wearing flannel styles with a cleaner, more subdued look than their 1990's predecessors.
Flannel comes in a rainbow of shades and prints, in addition to classic plaid, so you can wear it in a variety of ways when the weather is cool. Look for button-down shirts made of a quality flannel with interesting details.  Flannel hats or scarfs are another classic yet understated way to wear this fashion trend.
Plaid and flannel are forever intertwined, and lately you can see examples of this popular combo cropping up everywhere on the fashion runways. Try pairing a long plaid flannel shirt with black tights, one of the most recent fashion must-haves. If the weather won't permit tights or leggings, go with a pair of skinny black jeans for more protection from the cold. Top off this chic look with ballet flats or patent leather heels.
Enjoy staying warm and stylish while wearing your favorite flannel styles. Just be sure they're not dirty.