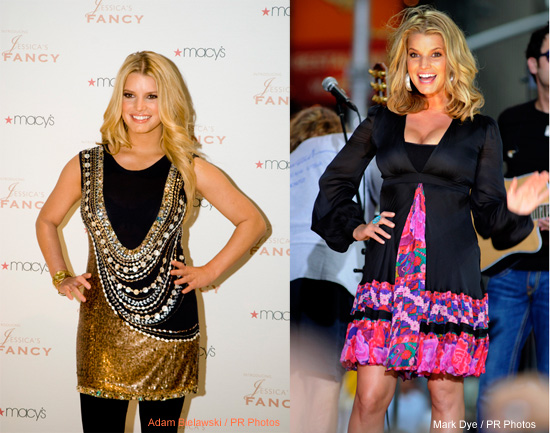 Jessica Simpson offers classic American beauty that anyone can emulate. Men find her blonde hair, big chest and flirty outfits irresistible, while women appreciate her feminine yet approachable style. In addition to being a regular in the fashion magazines, she has made a significant mark on the fashion world by launching her own line of handbags, footwear, swimwear and other accessories.
To dress like Jessica Simpson, bring out the bows, ribbon and lace. This girl loves being a girl, and her feminine style reflects it.

Pretty dresses. Girly is the rule when Jessica dresses up. Her dresses are often tight to show off her cute hourglass shape, and short to emphasize her well-muscled legs. Lately she has also been wearing the season's long and flowing maxi dresses, such as this vintage-inspired maxi number by Elizabeth and James Dooriya. To copy Jessica's look, go for fun and flirty dresses in feminine colors such as pink, purple and blue. Florals are always a safe bet, and it's just fine to show off as much cleavage as you dare. Jess may be the daughter of a minister, but she's not shy at all when it comes to showcasing her best assets.
Interesting patterns and textures. Jessica Simpson enjoys experimenting with interesting patterns and textures, and recently announced she will be adding dresses to her fashion line for this reason.

Sky high heels. As the inspiration behind her own line of footwear, Jessica loves wearing sexy shoes. Her petite height makes her partial to high heels…really high heels. She is an expert at walking and looking great in wedges, platforms, stilettos and many other tall styles.
Flashy accessories. Jessica loves most any accessory. Big earrings, chunky necklaces, dangling bracelets, wide belts, designer handbags … you name it, this girl wears it. When accessorizing your Jessica Simpson look, having fun mixing up a variety of items. Large-framed sunglasses are also a necessity for shielding one's eyes from the glare of the paparazzi.
Trendy casual. When dressing casually, Jessica loves to go for comfort.  Tracksuits designed by Juicy Couture are among her favorites, such as this Dog Crest Velour hoodie and pants set featuring a pink, silver and gold crest.
Go country. As a born and bred Texas girl, Jessica knows how to work western wear. She's frequently seen in country garb (especially during the time she was attempting a career in country music), and vintage cowboy boots are a favorite. Her footwear line includes a healthy selection of boots fit for any cowgirl. Jessica also is known for looking smokin' hot in Daisy Duke shorts, a must for her role as the country daredevil in the 2005 "Dukes of Hazzard" movie.

Pile on the hair extensions. Jessica has made hair extensions famous, and even admits to sleeping in them. She and her hair stylist, Ken Pavés, have been using the clip-on hairpieces for years. If you want to dress like Jessica Simpson, hair extensions can help you duplicate her long, flowing tresses with ease.