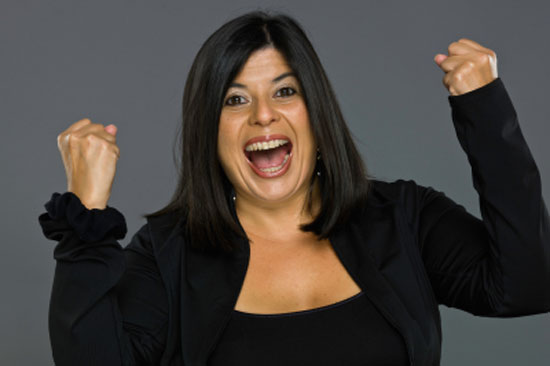 So many of us are in a constant battle of the bulge. The sad part about it is that often the bulge wins and we are left trying to camouflage extra weight that we are unhappy about. Almost anyone who is overweight knows some techniques to camouflage extra weight but we are always looking for additional ones. By being able to successfully camouflage those few extra pounds, we feel more confident and comfortable.
The number one way to hide those stubborn pounds is by gravitating towards dark colors. Dark colors tend to be very slimming. They create a visual illusion that you are thinner than you really are. Another related tip is to wear the same color or similar colors of the same tone from head to toe in order to create an uninterrupted line. This gives the impression that you are taller and thinner than in reality. For most of us who are looking to hide weight, looking like we are taller is not a bad thing. Choose high heels to help give you a taller silhouette also.
If you choose to brighten up that solid colored silhouette, a great way to do so is with a jacket or cardigan that nips in only at the waist. It will make you appear narrower, which is always good when you are striving to camouflage extra pounds. Layering light weight fabrics will also create multiple vertical lines which will enhance your visual line that makes you appear much thinner.
Another fantastic way to hide extra weight is by wearing clothes that have particular prints. Vertical stripes are very slimming while horizontal ones make you look wider than normal. Smaller prints in few colors are flattering while oversized, multi-colored prints do nothing to cover up extra pounds. If you are an individual with disproportionate weight gain, using patterns and solids will help to balance you. Bottom heavy people should wear dark pants and lively, printed shirts.  Top heavy people should avoid stay away from patterns on their shirts and instead wear solid tops and pants and skirts with a print or design.
Make sure your clothing is loosely fitted. This means no oversized clothing because it will look like you are dressing sloppily as you cover up your size. No one is fooled by oversized clothes. You look like you are trying to hide. However you should also not wear clothes that are tight fitting. This takes away from the look you are trying to portray by focusing on your weight instead. When choosing clothing that flatters your figure, opt for figure skimming, comfortable clothing to hide the bulges you want to hide and still show off the curves you want to show off.
Use the knowledge of how to camouflage extra weight to your advantage. You can create your own whole new look that ensures you look your absolute best. Put your clothes to work for you doing what they should do, making you look great.