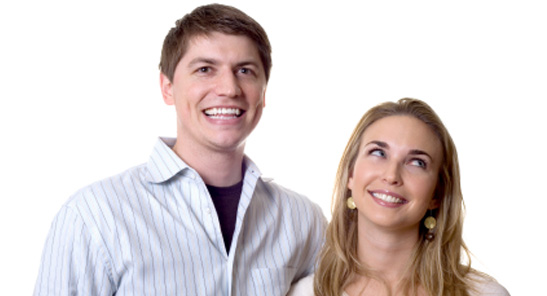 Wearing a T-shirt under a button down shirt is a popular look for people of all ages and men and women alike. A T-shirt as an undershirt helps to keep the button down shirt cleaner, reducing the need for expensive or time consuming cleaning. It also makes a see-through shirt much more respectable. For women it works as a camisole to make the outfit less provocative. For men it covers up chest hair. It also provides needed warmth and helps to create a pulled together look. However, sometimes choosing the right color to wear under a button down shirt is a complicated decision.
For the most part, white is the color of choice for a tee to be worn under a button down. Versatile white matches practically everything and always looks good. It is the traditional color of undershirts and is by far still the most common one. In fact, with many outfits a touch of white adds a little class. Just be sure your white T-shirt is ultra clean and in good shape, as a dingy one or one that's beginning to look ragged will detract from your appearance and make you seem careless.
White is also a great choice when the T-shirt is being used as a camisole under a see-through button down in most cases, especially for Caucasians. If you are African-American, a black or dark brown T-shirt will look much better as a camisole. In addition, if the see-through button down is black in color, anyone can wear a black tee beneath it for a seamless, sophisticated look.
The choice of button-down and the look you are going for will also help to dictate which color T-shirt you should opt to wear. If you are looking for a sleek, seamless look, it is a good idea to match the color of the T-shirt with the button down you are wearing. You can even match it closely enough that people will not be able to tell if you are wearing a T-shirt or not.
If you like the look of a T-shirt under an open button down shirt, you have more versatility in your choice of colors. You can wear a coordinating color in a similar shade. You can also opt for a T-shirt in any color that is found in a multi-color button down. For a funky look, you can also choose a contrasting T-shirt to wear under your favorite button down. The choices are endless.
T-shirts are the most versatile of all types of clothing. They can easily go from casual to work to more dressed up events. In order to be ready for every type of situation, you should own a variety of good-looking T-shirts. By ordering custom-made T-shirts you can easily have the perfect one for any and every occasion. You can choose the color, weight, style and quality of the tee. You also can opt to custom print it with anything you want.