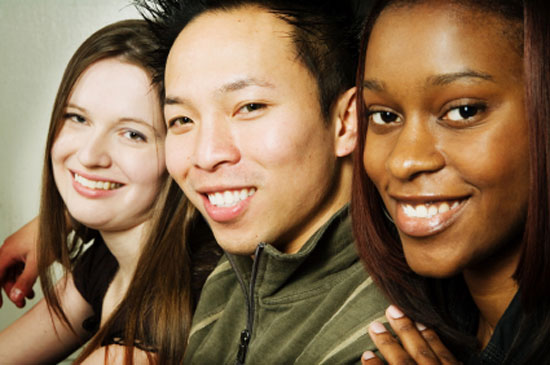 Fashion trends for 2009 include a rainbow of delicious colors, exotic prints, interesting fabrics and bold accessories. With most buyers scaling down their clothing budgets due to a tightened economy, fashion is becoming very focused. Make the most of your wardrobe dollars by choosing a few quality garments and accessories that capture the essence of 2009 fashion.
1.    Vibrant colors. In an effort to cheer a somewhat gloomy outlook, vibrant, electric, delicious colors are pulsing through the fashion scene. Fuchsia, electric blue, bright lemon yellow, vivid citrus greens, and deep purples top the list of popular colors. Soft pastels are also making a showing, so if you aren't quite ready for the neons, try a garment in lavender or dusty rose. Slate Grey is one of the few neutrals currently seen on the runways, and is elegant for daytime or evening wear.
2.    The dress. Dresses are everywhere, especially those with asymmetric looks. Designs tend to be more modest and offer greater coverage than the previous strapless trends. The one-shoulder dress is a top pick for evening wear, as worn by First Lady Michelle Obadiah at the Inaugural Ball. Other dress styles include those with draped Grecian designs, full-length maxi dresses and 60's inspired A-lines.
3.    Exotic patterns and materials. This year exotic prints, animal prints and tribal-inspired designs are everywhere, giving fashion fans lots of variety to choose from. The tribal motif continues on shoes and accessories with accents such as bead work, lots of fringe, and Southwest color palettes.
4.    Sheer fabrics. Sheer fabrics have quickly risen to become a leading trend. Fortunately for the average wearer, this style isn't about baring it all, but more about adding interest and elegance to a look. Sheers are draped, flowing and layered.
5.    Jumpsuits. Believe it or not, the Dynasty-era women's jumpsuit is back in a big way. Current styles include both fitted and drape cuts in a huge variety of fabrics and prints. Add a wide belt for instant chic.
6.    Harem pants. MC Hammer would fit right in with the current harem pant craze. This super comfortable look features a very loose cut through the thigh and crotch area, then gradually tapers to the knee, ankle or leg. It can be paired with just about any shoe, from sandals to boots.
7.    Statement jewelry. Jewelry is big and bold, and includes everything you could find at a vintage shop: chunky necklaces, exotic bangles and bracelets, massive rings and costume brooches.
8.    Accents such as flowers and bows. Feminine touches include pretty 3D floral accents at the shoulder, waistline and hem. Ruffles and bows are another recurring theme, particularly along hemlines. These girl accents also adorn accessories.
9.    An emphasis on the shoulder and sleeve. Eye-catching accents are everywhere on clothing these days, especially at the shoulder. Shoulders are receiving a lot of attention from the fashion world as the one-shoulder design peaks in popularity. Puffed, leg of mutton, bating, cap and kimono … regardless of what they're called, sleeves are also hot.
10.    Daring shoes. Mile-high heels in interesting colors and textures, along with the bold gladiator sandal, are back this season.