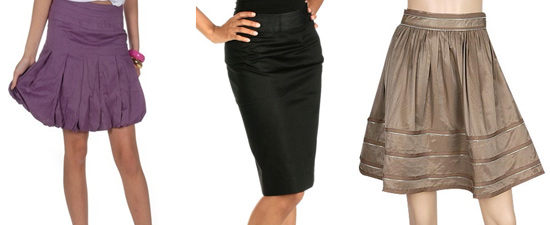 For a woman, one of the most versatile pieces of clothing that they own is a skirt. Skirts can be worn in an office environment and can also be worn when heading out for a wild night out with the girls. Because there are a variety of different lengths that skirts come in there are many possibilities when it comes to the outfits that can be put together using skirts.
What you will wear with your skirt depends on what type of skirt it is. Here are some different fashion ideas for you utilizing several of the different skirt lengths:
•    Miniskirt: The miniskirt can be worn as one piece or it can be layered on top of a pair of black leggings. While a mini skirt by itself is bit more on the risqué side, miniskirts with leggings still look great and can offer you just a bit more coverage. No matter what type of miniskirt you like, a white blouse or t-shirt usually goes quite well with the look. If it is on the colder side a nice touch is a lightweight black leather jacket and the shoes can be either a dark pair of pumps or heels. You can also go for broke with a pair of gladiator shoes that come up to the bottom of your knee. This is a look that is gaining a lot of popularity in Hollywood.
•    Mid length skirt: A mid length skirt is one that usually comes down to the top of your knees. These types of skirts look great for office wear. Pairing a gray mid length skirt with a white blouse that is collared and topping it off with a gray blazer is a sharp and sophisticated look for your office job. Finish the look of sophistication with a dark colored pair of pumps or flats which will add some comfort and style all at the same time.
•    Long skirts: Long skirts are those that hang down below your knees and can even come down to about your ankles. These skirts are paired nicely with sweaters and other tops that are long sleeved when it is cool outside. For warmer weather these longer skirts make a nice mate to a sleeveless shirt with a light jacket or wrap accompanying it. Footwear with this type of skirt can range from sandals to flats but comfort is the key.
•    Pull-over skirts: These skirts do what they sound like they would and simply pull over your head. They are typically both sleeveless and strapless or they are tied into place with one tie at the neck line. These skirts generally go really well with a pair of black leggings or even a pair of jeans. This is the perfect look for a nice pair of high heels.
No matter what kind of skirts you like to wear you just need to mix and match and do some fun experimentation and you too will be able to look your best no matter how long the skirt you are wearing is.