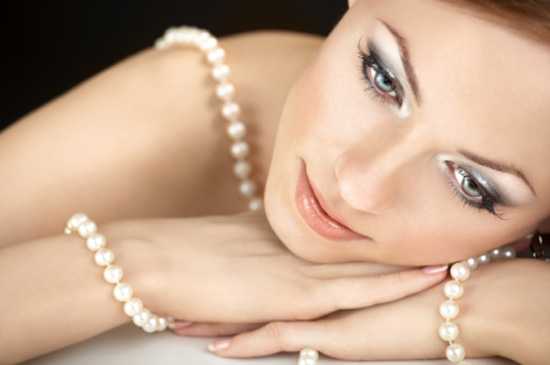 There was a time in history when wearing a string of pearls meant that you were on the more affluent side of the tracks. Back in the twentieth century it was only older, well established women that were seem wearing pearls. Basically back then if you were not born into money, then pearls were something that had to be earned at a later point in woman's life. Now with the advent of many different priced pearls, this is no longer the case, but many people still associate pearls with the' rich and stuffy' class and don't give them a second thought when it comes to fashion. But pearls can make for a modern look if they are properly paired with some of today's fun fashions.
Many feel that you can only wear your peals in a formal situation. While this is indeed true, that doesn't mean that you can't get a little risky and wear your pearls to a more casual setting. It is all in how you wear your pearls. Here are some ways that you too can dress up or down in your pearls:
•    Formal: Pearls are synonymous for going with black-tie affair fashion. When you break out that little black dress there is no other accessory that will make it look better that a nice string of pearls. But instead of over dressing yourself in other jewelry, try wearing just pearls. A great pairing with formal wear is a pearl necklace, simple pearl earrings, and a pearl ring. This will give you a different look form the gold that usually litters the little black dresses at formal events.
•    Casual: Just as you can wear your pearls with formal wear, you can also wear them with casual wear. A nice pair of jeans and a casual blouse will actually be just fine to wear your pearls with. To detract from the fact that you are wearing pearls and to bring the tone of the pearls down just a bit, try layering several pearl necklaces with other more conventional necklaces such as different bead necklaces or gold necklaces. Go with different styles and lengths for an ultra chic look, just be sure that you don't go too heavy on the bling or you may be mistaken for a rapper.
•    Mix up the colors: Pearls are generally associated with black only but the fact is that pearls can go with a number of different colors. While you will want to avoid pastels and fluorescent colors as the pearls will get lost in them, there is nothing wrong with many other colors in the color spectrum. Colors such as violet, sunshine yellow, and canary red really bring life to a nice string of pearls. Have fun here and mix and match to come up with different combinations that will look great on you.
Every woman should have pearls. Pearls offer a wider variety of fashion choices then you might think and when paired with the proper fashion, you can look great in pearls no matter how fancy or laid back you want to be.