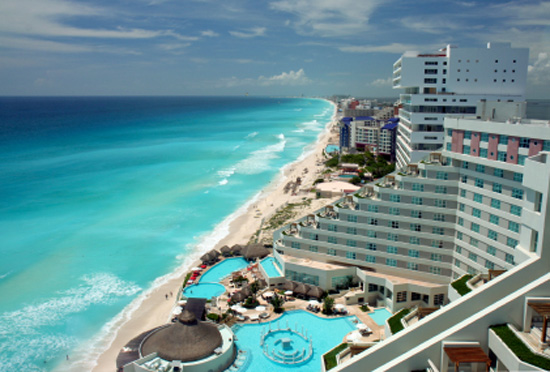 Cancun, Mexico was once a nothing more than a tiny little town that offered nothing out of the ordinary. Now Cancun is world famous and is the place to go when vacationing if you are into a wild nightlife, a balmy climate, water sports galore, and oh yeah the beach. A trip to Cancun can be a once in a lifetime experience that you won't soon forget, so what should you wear when you vacation in Cancun?
Cancun is the ultimate place for rest and relaxation, but it is also a place to party your tail off. If you are planning a trip to this Mexican paradise, here is what you should wear:
•    Bathing Suit: Cancun is actually an island and is only a mere 16 miles long so if you think you can go there and avoid the beach, think again. That being known you better pack your bathing suits as you will be spending a great deal of time in them. For guys a really cool pair of board shorts will keep you comfortable and have you looking cool and for the ladies, go for it with a sexy bikini that compliments your figure.
•    Shorts and t-shirts: Cancun is hot, hot, hot! Even when you are not on the beach you will want to be wearing as little as possible. This is where a nice pair of cargo shorts and a regular old t-shirt will do the trick. Women can go a little classier than the guys and wear a nice pair of capris that will look great and still keep you cool.
•    Comfy shoes: You are going to be on vacation after all. Again, if you are not at the beach then chances are you will be walking around and visiting one of the many shops and stores that Cancun has to offer. Make sure you pack a cozy pair of sneakers for your trip and don't leave behind your flip flops because you will need those too.
•    Night wear: For those nights out at the clubs you will want to get just a bit dressier, but not much. A pair of nice jeans and a cool button down shirt will fit the bill for the guys. Feel free to leave that shirt un-tucked and make sure that your shoes are easy to move in when you hit the dance floor. Women can get away with jeans and a sassy t-shirt or can even go for ultra comfort with a cute skirt or dress. Same rule applies for your shoes ladies.
•    Sun block: Probably the most important thing you will put on while in Cancun is your sun block. Bring an SPF that is greater than you would normally use and don't be shy about re-applying. Failure to always have a good coat of sun block on will have you coming back looking like a lobster and feeling like a walking blister. Of course, you don't have to wear any sun block at night if you don't want to.
As important as all those things are to make sure to pack, it is equally as important to leave behind your cares and troubles; you won't need them in Cancun.