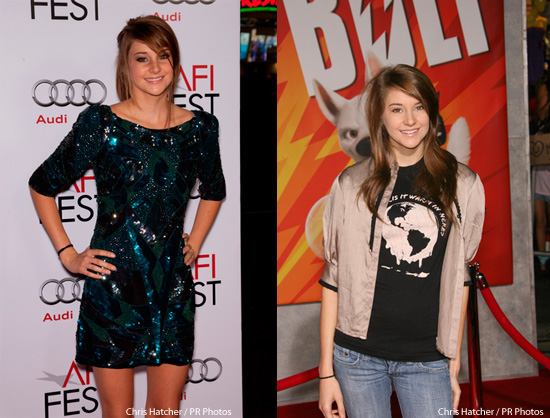 Shailene Woodley is a young actress who is best known for her role in the hit show the OC and later for her role on the show The Secret Life of the American Teenager. At just 17 years old it is no surprise that she dresses like a typical teenager at times, but what may surprise you is that she can dress up and look as good as actresses that have been in the game for a long time when she attends a red carpet event.
Woodley has an all-natural beauty to her and her slender figure allows for her to look great in almost anything she puts on. Here are some ways that you too can look like Shailene Woodley:
•    The teen look: Woodley can look as typical as any other teen on any given day. When in this mode she still will actually dress on the nicer side. You can accomplish this by doing as Woodley does and finding a nicer pair of dress pants to wear. She tops this off with a typical t-shirt but then may top that off with a very sophisticated turtleneck sweater. Get some classy looking flats for your footwear and you will have the classic Woodley teen look down. Of course she still wears the occasional jeans and t-shirt combination and because she is so slender, she does wear skinny jeans. But if you can pull off skinny jeans too, then you actually have two teen looks that you can go for.
•    Formal look: Woodley can match the best of them when she hits the red carpet. She likes to wear sleeveless dresses that come all the way down to her ankles and she usually wears a lighter color such as white or cream. Be sure that you go with a dress made of a nice lightweight material and have it be form fitting, but not too tight. Finish off this look with a nice pair of open-toe heels that are not too high and accessorize with a nice conservative bracelet, a few necklaces that hang, and pair of earrings that hang.
•    Jackets: A lot of the outfits that Woodley wears in her teen look will be accompanied by a jacket. She likes darker colored jackets and has even been spotted in a jean jacket or two. You may want to save the jackets for a cooler day and you certainly don't want to wear them if you are wearing a sweater, but the option is there if you so desire.
•    Hair and make-up: Both hair and make-up are on the lighter side with Woodley. To mimic her hair due simply part your hair in the middle and wear it down. Spend some time styling it, but not a lot. When applying your make-up you have to go for the all-natural look that Woodley pulls off with ease. About the craziest she will get with her make-up is a darker shade of pink for her lip stick.
All that will remain for you is to learn how to flash a winning smile wherever you go and you will then look exactly like Shailene Woodley.