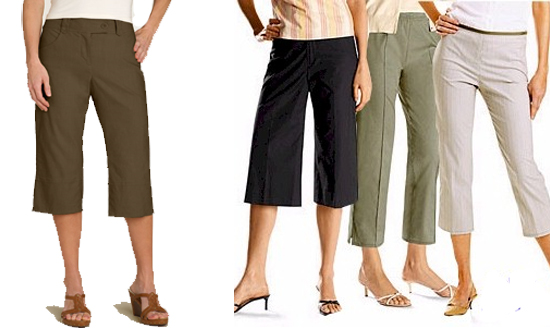 Capri pants were given a huge boost in recent years with more and more A-List movie stars being spotted in them when they are out and about just being casual. Capri pants can be a great alternative to wearing the same old same old and have that look of being in between too casual and too formal.
Believe it or not there are certain 'rules' when it comes to wearing capri pants though they are not hard and fast. Here are some things you should know about capri pants:
•    Don't go long: Capri pants have to be just the right length. If they are too long, then you are wearing slacks and if they are too short, you are wearing shorts. So how long should they be? The ideal spot to have the bottom of your capri pants rest is the mid-point between your knees and your ankles, also known as the calf muscles.
•    Don't go tight: One of the absolutely best things about capri pants is the fact that wearing a loose fitting pair can hide some of that extra weight that you may be carrying that you don't necessarily want to show off to the rest of the world. That said you just don't want to go tight with capri pants, even if you are skinny. The reason is simple; it will make your legs appear to be heavier than they are. If you have really nice legs and tone calf muscles than by all means go semi-tight, just not ultra tight.
•    Pick your passion: The traditional capri pants were all the same hum-drum kaki looking pants but today it is an entirely new ballgame. Today's capri pants come in almost every color under the sun which makes them an extremely easy article of clothing to accessories. You can also choose capri pants that have the traditional solid look, or go with one's that have laces hanging down the legs, or even with ones that have a laced up side, it's really all up to you and what you think looks best on you.
•    Accessorize right: When it is hot outside a nice tank top will almost always does the trick to compliment your capri pants. When the weather starts getting a bit nippier then a cute long sleeved button down shirt fits the bill. You can choose to use a regular belt with your capri pants or you can find a fun wrap to help tie your outfit together. As for your shoes, really anything goes. Just stay casual and leave the high heels at home. A nice pair of wedge sandals always brings out the best in capri pants. When it's too cold for sandals try a sassy pair of ankle high boots.
Capri pants can look good on almost any woman provided she wears them right. By choosing fun colors that you like and ensuring that the capri pants are the proper length and are not too tight, you will look your best anywhere you go in your capri pants.