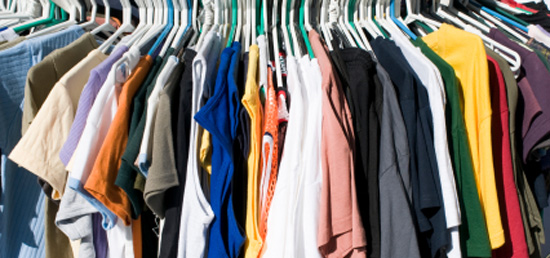 Organizing your T-shirt wardrobe is the easiest and quickest way to be able to put together a great look in no time flat. There are a variety of ways to efficiently organize your T-shirt collection and no one way is right or wrong. It is important however to organize them in a way that works for you to get maximum enjoyment and maximum wear from all your T-shirts. You simply need to choose the way that best fits your style and sense of organization and you'll be on your way to simplifying the process of getting dressed time each day.
An obvious and very useful way to organize your T-shirts is to group them by color. By doing so you know exactly where to look for a particular T-shirt, and will be sure to find it quickly and easily. You can even organize them according to the range of colors, and have all pastels, darks, brights and whites each together in their own space.
You can also organize your T-shirt wardrobe in terms of the style of T-shirts you own. You may want to group T-shirts by whether they are dressy, everyday wear or old favorites. It will make it much easier when it comes to putting together an outfit for work, going shopping or if you're just cleaning the house.
Some people swear by hanging T-shirts, while others prefer folding T-shirts and grouping them in piles. There are several things to remember when doing it either way. If you choose to hang T-shirts, be sure there is plenty of space in the closet or your shirts will wrinkle. If you have shirts that you wear very infrequently, like ones for specific holidays, you may want to take them out of the closet and store them folded. This will give you more closet space and prevent hanger bumps in the shoulders of your T-shirts.
If you prefer to fold T-shirts and store them flat in piles, it is important to do so neatly. If you carefully fold the T-shirts when they are fresh from the dryer or immediately after ironing, they will remain looking good. Another suggestion is to fold T-shirts following the same method retailers use. Lay the shirt face side down and fold sleeves inward from mid-shoulder. Then fold the shirt in half once. By doing it this way, you minimize wrinkling, make T-shirts easy to stack and the design on the front will be easily visible when you are searching through piles of shirts to find the right tee for your needs.
Organizing your T-shirt wardrobe seems like a lot of work, but it is really very simple and will save you a lot of time in the long run. By doing it this way, you will also be able to quickly see at a glance which color T-shirts you may need to buy and if you are running low on T-shirts for work or for everyday.  You can even recreate old favorites by ordering custom-made T-shirts in any design you choose.