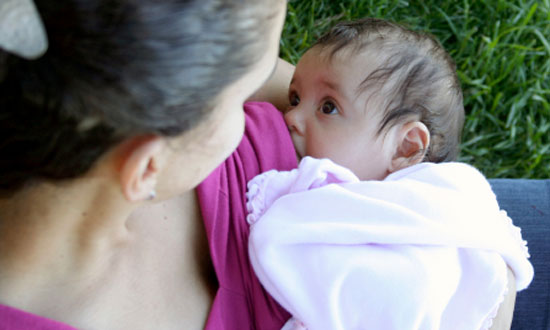 For breastfeeding, comfort and ease of access are the key elements that make a shirt one that will make the process of breastfeeding easier. In order to achieve comfort and access, there are several styles that work well while breastfeeding.
The main issue for many breastfeeding mothers is to have something that will allow them quick and easy access without revealing too much to strangers or to other family members. A large t-shirt that fits loosely can be easily pulled up when it's time to feed without exposing too much. To get the size large enough, aim for at least two sizes larger than you would normally wear.
Other options include shirts that are specially made for breastfeeding mothers. These shirts sometimes have a panel across the front that can be lifted up for easy, direct access. These panel shirts often have a loose panel that covers a slit across the bust to allow the baby's head and the bust to be covered by the panel, hiding the feeding from view. These shirts are perfect for wearing out in public and in private.
Some breastfeeding shirts have buttons across the front to allow the shirt to be opened when it's time to feed. Sometimes the buttons are covered by a panel of fabric to hide the opening, and sometimes the buttons function like a sideways version of a button-up shirt. It may be necessary to use two hands to undo these shirts, however, making it harder to get access if you are holding the baby. These shirts also may not be as discrete as shirts that have a flat to hide the baby's head while feeding.
Other breastfeeding shirts are wrap shirts that can be unwrapped in order to allow feeding. The wrap shirt usually wraps to one side, allowing one side at a time to be opened by pulling back the wrap. These are often good choices for mothers with small busts, but they may not provide sufficient support for other mothers, and they don't offer a discrete panel that will hide the baby's feeding.
A tank top is a great type of shirt to wear while breastfeeding because the top is easy to pull down for baby's feedings. The tank top should fit loosely so that it's easy to pull down one side of the tank top with one hand, if necessary. These are often comfortable to wear at home for feedings, but they may not be the best items to wear in public for breastfeeding, as they will reveal the bust during feedings.
Another style is the tie-front breastfeeding shirt. These shirts have a slit across the bust that is hidden by two panels that are tied together in the front of the shirt. When the shirt is ties, it looks like a fashionable shirt with an interesting waistline. But when the panels are untied, the mother has easy access for breastfeeding. These are good for feeding either in private or in public because the feeding can be hidden by the panels.