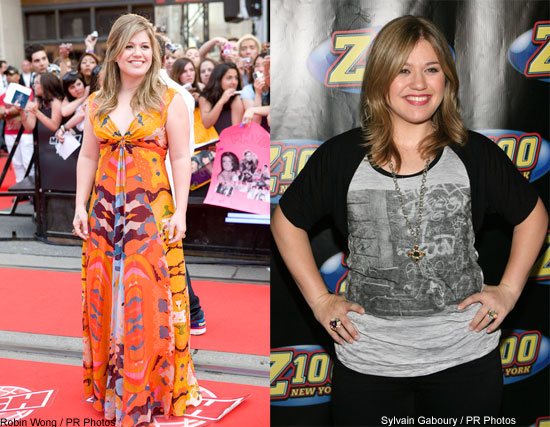 Kelly Clarkson is known for her cute stage outfits and her interesting sense of style. Much of her look is retro 80's glamour mixed with the latest in today's fashions. One of the looks that immediately mark an outfit as something that Kelly Clarkson would wear is a tank top with black fishnet over it. Black fishnet is featured in many of her looks, including fishnet stockings and a black fishnet shirt worn over a black bikini top.
T-Shirts
Camis are one of the many types of shirts that Kelly Clarkson wears regularly. Her camis are always small and tightly fitting. For a stage show, she often opts for a black cami that is dressed up with lots of jewelry and other accessories.
When she's dressed down for a casual day of errands, Kelly Clarkson often wears t-shirts that are tight fitting along with a casual pair or jeans or khaki pants. Her t-shirts are often in neutral colors such as various shades of beige, white or black. She also loves to wear band t-shirts that promote her favorite groups. To get her look, wear a black t-shirt that has your favorite band's logo on the front. Pair the t-shirt with a pair of distressed, light blue jeans. Because she sometimes wears ripped jeans, you can tear your jeans across the knees or just above the knee to copy her look.
Gloves
Another of her 80's retro accessories is her fingerless gloves. She often wears these in black when she is performing, and she has been photographed at dressy events wearing these accessories as well. If these gloves are hard to find, get a pair of black driving gloves and cut off the fingers.
Dresses
Kelly Clarkson is known for her amazing dresses. Though she is more often seen wearing her casual or stage outfits, she always shines in long, formal dresses. To find a dress that looks like Kelly Clarkson's style, look for a dress in a neutral color. She wears long dresses in beige, light khaki and off-white. Make sure the dress has an interesting shape, such as tiers of fabric or an unusual waistline.
Kelly Clarkson's dresses are never boring, and the dress you choose should have a simple neckline but a dramatic shape elsewhere. The dress can either have short sleeves or it may be strapless.  Wear the strappiest pair of heels you can find with your Kelly Clarkson-style dress. Find a pair with an ankle strap and a strap across the toes if you can. She has worn shoes with this style many times for formal occasions and in promotional photos.
Belts
Kelly Clarkson often wears belts on stage and in her personal life. She prefers wide belts that get attention. Sometimes, she wears a large belt buckle in the front as an extra accessory. The belt itself can be metallic and have a chain pattern, or it may have a basket weave design. Sometimes her belts are plain leather belts with an oval belt buckle to dress them up.