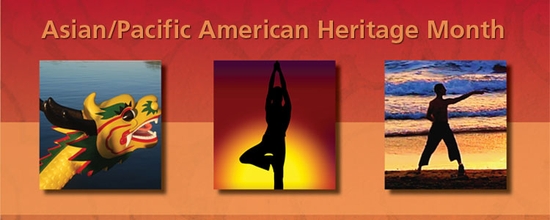 Celebrating Diversity during Asian Pacific Heritage Month
May is Asian Pacific Heritage Month. What does that mean? It means that Asian Americans around the United States celebrate ethnic heritage, customs and traditions throughout the country. Whether they are first generation Americans or have been here for a hundred years or more, Asian Pacific Americans are part of the American patchwork quilt of history.
The origins of Asian Pacific Heritage Month began back in the 1970's, during the administration of President Jimmy Carter. In October of 1978, President Carter signed a resolution that officially designated one week in May as Asian Pacific Heritage Month, a time period that celebrated Asians, and Asian communities, around the country. May was selected as an appropriate month to celebrate such culture and heritage for two specific reasons. The first was that Japanese immigrants first arrived within the United States in May of 1843. The second was that the Transcontinental Railroad was completed in May of 1869, which would never have been completed if it were not for the efforts of thousands of Asians who worked on the railroad, sometimes as indentured servants or virtual slaves. The vast majority of laborers who completed laying the tracks that spanned thousands of miles across the American plains and mountains were Chinese.
While New York, San Francisco and Los Angeles support large numbers of Asian populations, growing numbers of immigrants from all Asian Pacific countries are flocking to the freedom and democracy enjoyed by the United States. They bring with them a wealth of heritage and customs that go back thousands of years. Such traditions are celebrated throughout the United States during the month-long events that are held in both large cities and small towns across America.
Asian Pacific Heritage Month was enacted into law in 1992, and extended the weeklong observation to a month-long event in order to honor and recognize the contributions of Asians in the United States throughout her history. Today, many popular Asians forge the way for further generations in honoring and representing their native homelands. Such popular figures as newscaster Connie Chung and author Amy Tan have brought Asians to the forefront of the media. Ice skater Michelle Kwan, a silver medalist in the 1998 Olympic games, has done much to illuminate the contributions of Asians in the world of sports, as has Kristi Yamaguchi.
Asian traditions and customs are still widely followed, even here in the United States, and every Chinese New Year sees Dragon Dances, foods and fireworks that offer a unique view into different cultures and traditions, more than most Americans are accustomed to. The Asian community is huge in large cities, and the popularity of Asian food has gone a long way in smoothing the paths of communication and cooperation between not only Asians and Americans, but other cultures and countries as well. School children across the country are offered lessons and activities during Asian Pacific Heritage Month that create interest and knowledge about distant lands and distant people, many of whom have immigrated to the United States to pursue freedom and democracy.
Asian Pacific people come from Japan, Hawaii and China. They come from distant places like Thailand and Vietnam, Indonesia and Korea. Asian Pacific people come from Malaysia and Taiwan, as well as the Philippines and the Marshall Islands. They bring with them their history, their language and their unique customs and beliefs. America is truly the land of opportunity for many immigrants who brave new horizons to come to this country. The contributions of Asian Americans in history as well as their current contributions are what make America so successful in fields of science, technology and medicine. Asian Pacific Heritage Month is a time for all Americans to stop and appreciate the efforts of Asian Americans throughout history that make this country what it is today.