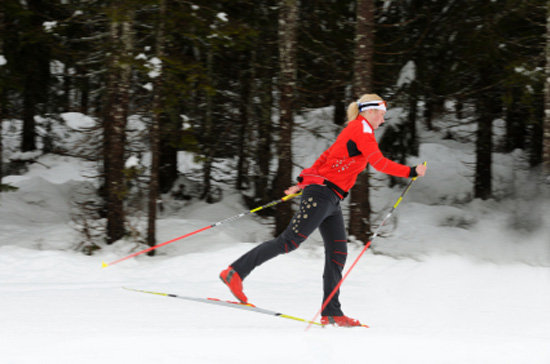 Cross country skiing is a great exercise and a lot of fun for anyone who lives in a part of the country that gets a decent enough snowfall for the sport. It uses almost all the different muscle groups and can give a good cardiovascular workout when done correctly. It is a sport that fits well for individuals of all ages and can be adapted to varying levels of physical fitness. More good news is that getting equipped for cross country skiing is relatively inexpensive, especially when compared to some other sports. While the skis and boots can be more costly, there are many good deals to be found also on new equipment and especially on gently used equipment.
Knowing what to wear for cross country skiing is very important. While you can invest in skiing outfits, it is completely unnecessary, especially if you are skiing for the fun and exercise of it. The most important thing to know about cross country ski attire is that layering is essential. It is not only a matter of comfort, but by doing so you can also protect yourself from possible frostbite.
How cold it is when you go skiing will greatly help to determine what you should wear as you practice your sport. If the temperature is very cold, you will want to wear heavy layers and possibly even a hat and facemask to protect your skin. If the temperature is just below freezing and the sun is shining, you will want to dress in lighter layers. You will become warm very quickly once you get moving. However keep an extra layer in your car or wherever you start from because you cool down quickly in any winter temperature.
Your layers of clothing should include a synthetic layer of clothing next to your skin. Cotton absorbs moisture and keeps it next to the skin, making you cold, damp and uncomfortable. Synthetic fabrics will aid in wicking away moisture from your skin and drying quickly so you remain dry and warm. Additional layers may be cotton, wool or other fabric.
A waterproof winter jacket, preferably of a streamlined cut will allow you to comfortably move as you are skiing. The waterproof exterior will protect you from added moisture from melting snow and provide extra warmth. Comfortable, slim-fitting pants or specifically designed cross country ski pants of a waterproof material are also a good choice for optimal movement.
Well-insulated gloves are essential to your skiing adventure. They will provide the dexterity you want without any added bulk. A hat may be necessary at the beginning of your outing, but typically you will find that you will quickly need to remove it. Headbands that cover the ears are a good choice. Be sure to use ski goggles to protect your eyes. A ski belt with zippered pockets will give you space to carry necessities and to store hats and other small items that you remove.
With the right cross country skiwear, you will enjoy an exciting and comfortable season of outdoor adventure.