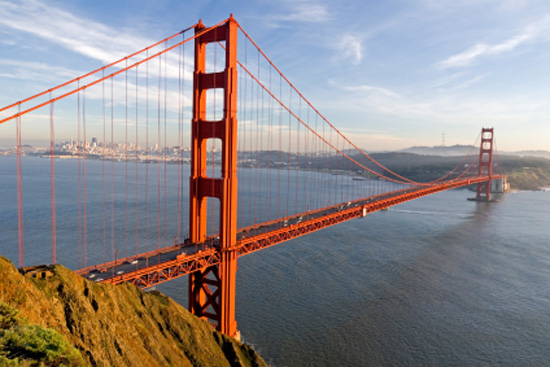 San Francisco is one of the most interesting cities in the United States to visit. It is a very picturesque big city, with hilly streets leading to a beautiful bay. The scenery is unlike practically any other place. Even the temperature is San Francisco is pleasant. Daily averages range from mid-50s to about 70 degrees Fahrenheit. Therefore no matter what season you decide to go to San Francisco your wardrobe choices will be pretty much the same. Low rainfall accumulation also makes San Francisco a joy to visit. Expect fog, especially in the morning, so bring a jacket to keep warm before the sun burns through it.
San Francisco offers a lot to do in terms of outdoor activities. It has lots of parks and beaches to enjoy. Great surfing is found there too. It is a city very much full of sports enthusiasts, so be sure to bring sports clothes suitable for outdoor sports. Whether you are into running, biking, sailing or in-line skating, there are many great activities to enjoy in San Francisco. Whether or not you plan to exercise, be sure to bring comfortable sneakers or shoes for walking, because as you visit the city and its attractions you will be on your feet a lot.
The work environment of the San Francisco area is highly professional. It is the banking center of the United States and also is very active in technology and medical research. These highly specialized domains often demand business professional dress. However some companies are fine with a more business casual look, more common to California in general. If you are visiting San Francisco for business purposes, do your homework to find out about the culture of the companies you will visit.
The city of San Francisco is a very liberal place and is well-known for having a large gay and lesbian population. There is a gay village, many gay establishments and even many cultural events specifically for this sector of the population. Even many of the tourists who choose to visit San Francisco are gay and lesbian, as the city is a Mecca for many of them. High fashion is common in the gay community, as is some very flamboyant clothing. Such trends can be seen throughout the city. If you are into high fashion, San Francisco is definitely the place to wear it.
The standard of living is one of the highest in the nation, with a much higher than normal percentage of wealthy individuals and families living in San Francisco. High society events are prevalent and haute couture is seen often. Expect to see designer outfits on ladies who lunch, shop and even some of those in the workforce. If you are planning to frequent the high-end boutiques or upscale restaurants, be sure to bring along trendy clothes and great accessories from big name designers (or at least really good imitations).
Be ready for all the excitement of San Francisco by bringing along a variety of clothing from casual to formal. You never know what is waiting for you there.