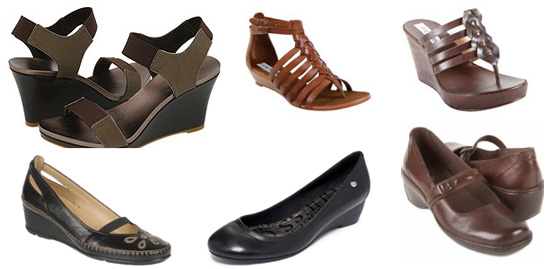 Wedges are an extremely popular shoe style, but not everyone knows just what makes a wedge a true wedge. Before you go shopping for one of this season's hot shoe trends, let's do a bit of research. On most shoes, the heel of the shoe extends from the heel of the foot to the ground. Wedges are designed differently. A wedge heel extends under the foot, from the back of the shoe to the middle or front, and provides total foot support.
Wedges can vary in height. Many are high-heeled, giving them the familiar triangular "wedge" shape. When the front of a wedge is also elevated, it is called a "platform wedge." High heeled wedges tend to be easier to walk in than stiletto heels while still offering lots of height to those who are vertically challenged! Not all wedges are high heels, however. It's the shape and length of the heel that determines if a shoe is a wedge or not. This shoe style is wonderfully versatile and comes in a rainbow of designs and heights, making it adaptable to most any outfit, from dressy to casual.
Wedges add instant cosmopolitan flair, so be sure you're ready to up your fashion quotient before slipping on a pair. They work best with certain outfits, depending on the look you're going for.
Jeans. Wedges add a cute, fresh look to jeans. If you want to go casual with your favorite jeans and a tee or tank, try a pair of canvas wedges. They'll not only be a great alternative to sneakers, high heeled wedges will add instant length to your legs. And for the best of both worlds, try a pair of sneaker wedges! For a dressier ensemble, wear your jeans with a pretty silk top (or other flowing fabric), then add coordinating wedges in leather or with embellishments. Because their unique design gives wedges a very sophisticated and sexy edge, they are a great choice for a night out on the town.
Skirts. Wedges are a perfect complement to skirts because they offer a more casual look than the traditional high heel. For a balanced look, wear wedges with a flowing skirt rather than a tight pencil skirt. Because of their size, wedges tend to make your feet look clunky when paired with slim skirts, so definitely stick with a loosely fitting skirt. There are wedge styles with straps that wrap up the leg, adding even more interest and sex appeal to an outfit.
Pants and capris. Pants and capri pants go nicely with wedges. But remember what we discussed when wearing skirts with wedges: wedges add visual weight to the foot area, so go with a wide-legged pant or capri to pull this look off. Don't pair wedges with tight pants or capris or they'll end up making you look like you're standing on concrete blocks.
If you're dressing for a formal event, wedges probably are not the best shoe choice. They tend to send out a fun, flirty casual vibe. In these cases, a stiletto heel would be the better match for your gown or party dress.