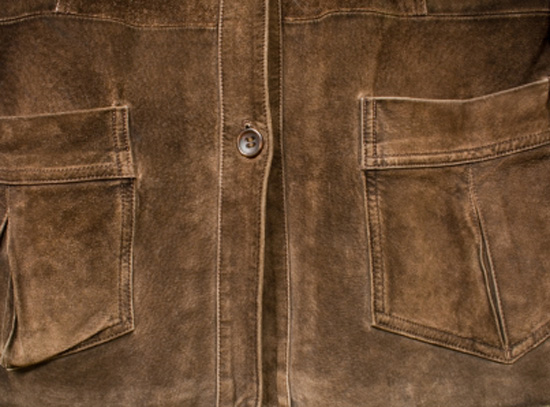 Suede is a beautiful fabric that is very versatile and trendy. It is used in a variety of clothing from jackets and coats to shoes, skirts, pants, shirts and purses. It is a great choice for when the temperature calls for something a little warmer in the spring and fall. It also makes for toasty winter wear. The one drawback with suede is that it stains easily and is hard to clean. It even stains when water gets on it. Therefore knowing how to protect suede from stains is very important information that anyone who has suede clothes, shoes or accessories should know.
The most important thing you can do to protect your suede items from stains is to apply a commercial suede treatment/protective spray. This formula comes in a can and is easy to apply by simply spraying it on the item. Be sure to do so in a well-ventilated area. Let it dry before wearing the item. Apply the treatment when the item is new, at the beginning of each season when you will wear the item and as often as necessary in between. Following dry cleaning, it should also be reapplied.
Certain preventative methods will help you keep your suede from getting stained. Never apply perfumes, hair sprays, deodorants or other aerosols while wearing suede. If your suede garment touches your neckline, wear a scarf with it to keep makeup and oil from the skin from staining the suede. If your suede gets wet, it is best to dry it gently with a clean towel as much as possible. When you have removed all the moisture that you can, let it air dry before using a suede brush on it. For dried on stains like mud a suede brush is a good way to remove them.
Deal with small stains immediately to prevent them from becoming bigger more permanent stains. If you have an oil-based stain on suede apply talcum powder to soak it up and then brush the suede afterwards. Many other stains can be removed by used a white pencil eraser or a sandpaper-based emery board for fingernails. Be gentle when using either method and brush with a suede brush afterwards. Remember to keep an eye out for stains when you remove your suede items and treat any stain promptly. As with stain removal in general, the faster you deal with a stain the better the chances you have of keeping it from becoming permanent.
Seek out a reputable dry cleaner or leather expert who has a good reputation for dealing with suede. He or she should also be able to speak confidently about what you can and cannot expect from cleaning such items. Talk to several before deciding which one to use. Seek referrals from others who frequently wear suede.
Keep your luxurious suede items from becoming stained with a little prevention on your part and the knowledge of how to deal with spills and liquids so you can prevent them from becoming permanent stains. This knowledge is extremely valuable to the longevity of your suede wardrobe items.