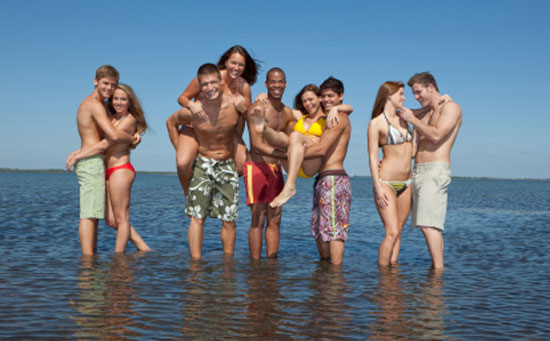 Board shorts are a type of swimwear first used for sports requiring a board, namely surfing. The style was originally worn by men, but women have also adopted them. Board shorts are currently very popular even among those who don't participate in water sports, and can be purchased at a variety of retailers worldwide. They are very comfortable and come in a huge selection of colors and patterns, including classic tropical and Hawaiian prints. Lengths vary, but board shorts are generally longer that other styles of swim shorts, reaching to the knee or just above.
The appeal of the board short lies in the fabric, typically a nylon or polyester weave, which is lighter and faster drying than other types of swimwear fabric. Board shorts made from these materials also tend to be more resistant to wear and tear from a surfboard.
Another difference between board shorts and common swim trunks lies in the waistband. To withstand the force of ocean waves, board shorts have a stiff waistband which is usually fastened at the fly with velcro. Another feature is a lace-up tie at the waist to provide extra insurance against losing bottoms to strong waves.
Traditional board shorts do not have a mesh lining like swim trunks, so if you're new to surfing or just like the style of board shorts, you need to decide what to wear under them. Here are the options:
1.    Nothing. Lots of folks go commando with board shorts. Most styles are long so the chance of flashing the world is reduced. However, some wearers find that they experience chafing and irritation of the skin due to the lack of lining. The velcro fly can also get tangled in hair "down there," so consider looking for styles that don't use velcro at the waistband. If you will be out of the water enjoying other activities while wearing your board shorts, it's probably a good idea to wear something underneath to avoid an unwanted show.
2.    Tidy whities. Underwear briefs are another option to wear under board shorts, but the cotton material will sag with water weight and will not dry as quickly as the shorts, leaving you with a long-term wet butt. If you prefer the fit of briefs but not the wet look, consider wearing a pair of swim briefs under your shorts.

3.    Boxers. Those who don't like briefs can opt for boxers. Regular cotton boxers will likely bunch up when wet, so try a quick-drying version from Underarmour like the Boxerjock. The breathable fabric will dry quickly and allow skin to breathe.

4.    Biker-style Lycra shorts. Another option that will prevent chafing and dry quickly. Because these styles are designed for athletes, they will also move easily with your body and can be worn alone if necessary.

5.    Bikini bottoms. If you're a girl who's not comfortable going bare under your board shorts, a pair of bikini bottoms underneath will provide the coverage you need. They will also dry at the same rate as your board shorts.