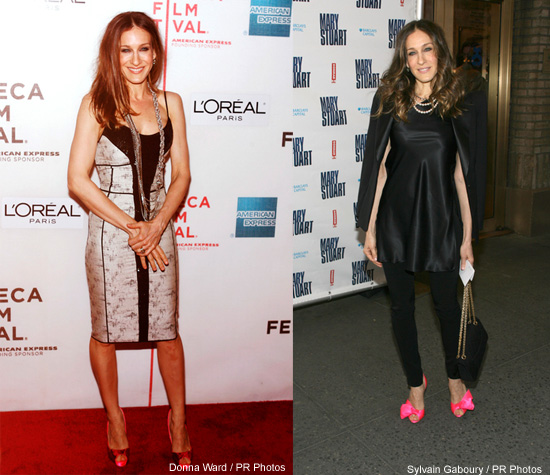 With an extensive resume of film, theater and television gigs, Sarah Jessica Parker knows a thing or two about how to dress the part. The role of Carrie Bradshaw on the smash television show "Sex and the City" has turned Sarah Jessica Parker (often referred to by her initials, SJP) into a fashion icon, and showcased her own unique and fun sense of style. A  "Sex in the City" movie was released in 2008, and a sequel is scheduled to premier in 2010.
Over the years, the fashion styles featured on "Sex in the City" have sparked numerous trends. SJP's character, Carrie, is the most fashionable, aided by a very talented costuming team which selected as many as 50 outfits for each episode. When dressing Carrie, costume designers mix flea market finds with designer pieces to create a high-end, thrown-together look. Shoes are also a vital component of Carrie's wardrobe, particularly Manolo Blahniks. Stilettos are a must-have.
Sarah Jessica Parker is often recognized for her style on the red carpet, which has included a huge range of picks from microminis to floor-length ballgowns. She's had lots of chances to strut her stuff on the red carpet too, like in 2000 when she hosted the MTV Music Awards and appeared in 15 different costumes. In 2004, SJP was recognized for her fashion presence by the Council of Fashion Designers of America and presented with the "Style Icon" award.
Sarah Jessica recently entered the world of fashion design, launching her own label of affordable clothing called Bitten and sold exclusively at Steve & Barry's.
Though it's hard to tell where Carrie Bradshaw's style stops and SJP's starts, there are a few important similarities. Use the following guidelines to recreate SJP's quirky style.
Mix old and new. SJP's closet includes a funky mix of modern and vintage pieces, worn in surprising ways. Experiment with this look by pairing a vintage skirt with a fashion-forward top, or jeans with strappy stilettos.
The shoes have it. SJP always goes for the heels, and the higher the better. An expensive price tag is never a deterrent.
Laidback casual. In her real life as a busy urban mom, SJP sports the typical mix of casual tops and bootcut jeans, adding vibrant accessories for more spark.
Pile on the accessories. As Carrie, SJP sparked sell-outs of signature accessories including the initial necklace, flower pins, designer handbags, gloves, newsboy hats and stackable jewelry.
Long, curly hair. SJP's signature look includes long, curly, thick tresses that scream sex kitten. To achieve this look, use curlers to gently shape the hair into waves, and separate them with the fingers. The SJP look also includes long, straight hair and sophisticated updos, so don't be afraid to experiment with different styles. The key is to always look young and polished.
Have fun with fashion! SJP is definitely not a slave to a certain fashion style. Be willing to experiment with a wide range of styles, and don't be afraid to make mistakes. Wear what feels good to you and expresses your mood.